---
Day 1-2: Santiago
from Photographs of Chile, November 2003 by Tim Darling     (Click on the photos..)
---
Friday, October 31 - Santiago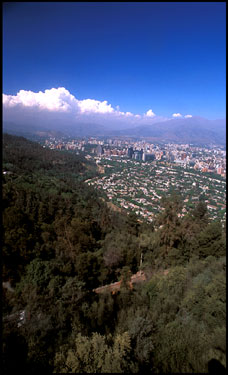 The first great thing about walking out into a city for the first time is being able to fill in those unrevealing map symbols with actual sights and sounds and movements. The intersection which before was just two white lines on paper becomes four friendly young people in a pastry shop with green wooden tables and chairs on the curb and two double parked taxis by a row of umbrellas that allow no shade in the white morning sun. Next to them a trellaced metal gate covers closed shop windows.

Driving into Santiago (a thirty minute bus ride from the airport), the lines on the map first unfold from the southwest corner of the city. The roadside buildings are marked off in squares of a single color, all closed at 8AM, but many with signs advertising electronics or pharmacies. Actually they look like they may never open. Most are boarded up and covered with black spray paint. Crowded yellow and white buses are everywhere. Through their sticky windows pass curtains, faces, curtains, and faces.

I walked around near the Metro Salvador in Providencia for a couple hours. Providencia is in the northeast corner, supposedly one of the nicer sections of the city. The Mapocho River runs to the north of it and on the other side is a steep hill that's crowned with a white statue of the Virgin Mary. It reminded me right away of Budapest (which also has a large statue at the top of a similar-sized hill on the far side of river) but, unlike Budapest's, this one wasn't holding a giant feather. Unfortunately the hill in Santiago has also been covered by tall red and white radio and TV antennas which, besides dominating the hill and the statue, also dominate many views from the Providencia section of the city.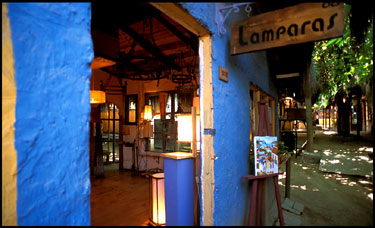 I found the pension / bed and breakfast I'd booked for my first two nights. It's run by a woman named Marilu who seemed happy running around with her hands full all the time. Not only does she speak good English, but she took the time to book me a bus back to the airport (I hadn't considered the impracticalities of trying to wave down a taxi at 6:30 AM on a Sunday). She also spent at least 15 minutes drawing walking trails on a map while explaining things to see.

There was a gynecologist convention in town that week and a few of the attendees were staying in her house. (Apparently I was the only one to find it funny that they called their gathering a 'congress'.) Marilu went over the map with me and one of these attendees, a woman named Suzanne who was in her forties. She was a general practitioner in Quebec and she spoke French and very good Spanish and English.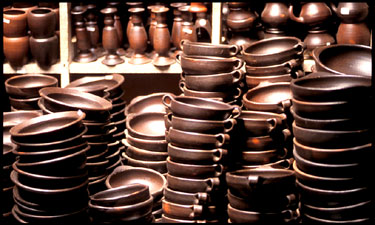 From the map, it looked like the 'artist's ville' that Marilu had outlined was a few blocks away. So I took the bus east to it, planning to be back in a couple hours when Suzanne and I were going to cross the river and go up the hill with the statue.

Of course, the village turned out to be at least a 45 minute bus ride away. It was very peaceful (being just outside of the major city routes), though I think it was mostly designed to sell pottery to tourists. I spent half an hour walking around before getting lost trying to take the bus back.

I got back, albeit a little tired, and Suzanne and I took off for the hill. It was interesting talking to her because English was her least comfortable of the three languages, though she spoke it very well. But typically she forgot what language she was speaking in and so streams of sentences would fly by me. At first I thought she was trying to help me get used to the sound of Spanish, which I appreciated, but then there'd be a pause where clearly she was waiting for a response, unaware that I hadn't caught any of what she said.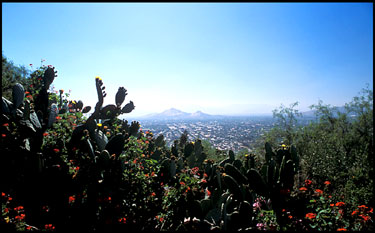 To get to the top of the hill (Cerro San Cristobal), you can either spend all day walking or take the funicular, a boxcar that's pulled up the hill with a cable at about a thirty degree angle.

From the top, you can see the valley with the city spread out in it and the Andes not so far off in the background. Since Santiago is in a valley, it has the same smog problem that Los Angeles and Mexico City have. It wasn't so noticeable though. The skies were a clear and mostly cloudless blue.

There is also a teleferico cable car line that goes above the trees on the hill to a couple spots further back.

When we came down at about 6, I went to call Carlos, who I met in Granada the summer before, from a payphone. Suzanne said she'd go her own way and seemed in a rush to do so. A half hour later, when I got back and took my first shower in two days, I think I may have figured out why.

Carlos came by at 10 and we drove to a spot a few blocks north at Los Leones that had a cluster of bars and people in all kinds of crazy costumes. It was then that I remembered it was Halloween night. As we walked around, Carlos gave me tips on how to spot hookers who he claimed accounted for a significant portion of the women in these few bars. I was pretty sure he was telling me this so I'd know to avoid them, but I wasn't completely sure. Then he pointed out a couple men dressed in drag (probably for Halloween, but again, not completely sure) and we remembered how our fellow friend Glenn danced with one such individual the previous summer at the fiesta in Granada.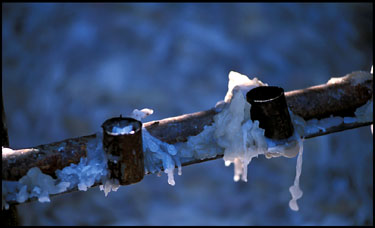 We had a table outside by the walkway which was soon filled with a group of costumed men and provacatively-clad women who were waving sticks of fire and chanting along to a fittingly eery soundtrack. This time it seemed quite obvious it was for Halloween, but I guess they may also just have been ritually sacrificing a gringo.

Carlos showed me a couple other places in the city, including a two minute stop at Hooters (his choice) which had just opened but sadly did not yet serve cerveza, so we didn't stay. It was the newest addition to an isolated block which I called the 'American sector' since it also included a Ruby Tuesday's, a Benningan's, and of course a Starbucks. (I didn't see such places anywhere else in the city. Even McDonald's were rare to see). I held our nice waitress's hand for a few seconds stumbling to remember how to say 'mucho gusto' - so probably she was glad we left sober.

The best place was Plaza Ñuñoa. A little south of Providencia, it has a few bars with tables and chairs covering the sidewalks and was full of college students (the Universidad de Chile is nearby). I mentioned to Carlos how many buses I'd seen and how crazily they all drove. He said there were all owned by different companies: on average, each company owned 1.5 buses! This was going to change in the next couple of years when the government had decided it should retake control of the bus system for a number of reasons, not the least of which was environmental concerns.


---

Saturday, November 1 - Santiago

I saw Suzanne in the kitchen in the morning and we took the Metro down a hill in the center of town called Santa Lucia, which is another spot where you can climb up and look down on the city. But if you want, you can also spend 15 minutes at the bottom talking to two hustlers who claim to be in their last year of med school and have to beg in the street to pay tuition because it's so expensive.

At first I thought: I'm glad Suzanne is here and seems happy to talk to them in Spanish because it means less work for me. Plus, if they don't start bothering me in English, I feel like less of a tourist. But after 15 minutes of watching this emotional exchange between the three of them, it occured to me that she was actually believing their story. "Don't believe what anyone tells you," I said as we walked away but she was muttering in dismay about the dismal conditions of Chilean medical students. This gullibility on her part was funny but also a little disconcerting considering not only had she been a frequent traveller for twenty years, but she had also herself been a med student. Later I suggested she should've asked them what they thought of the side effects of placebos or something else medical-related to verify their story. Anyway, I suddenly found much less satisfaction in having earlier convinced her that I was a telephone repairman from Cleveland.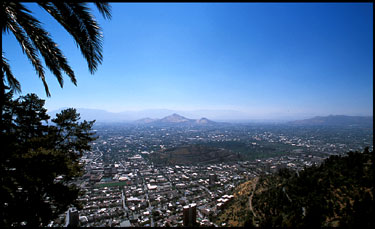 From there we walked through a fish market along the river in the northwest of the city. Nearby, we stopped by a large book fair, 'feria internacional del libro', which was in an unused train station, Etacion Mapocho (Metro P. Cal Y Canto). Apparently, the fair is there during the first week of November every year. It's a nice event, but not too useful if you're not looking to buy any books in Spanish.

Just after sunset, I walked back out into Providencia. On the side of the street outside a café where the previous night I had seen old men gather to play chess and dominoes, a little girl was sitting with a long string in one hand that was tied to a wooden crate. Pigeons were pecking at some seeds she'd put under them, but she seemed more interested in watching them than trying to capture one.

I found a vegetarian restaurant called La Huerta (the Vegetable Garden) which, apart from the incessant flute music on the stereo, had a nice rustic atmosphere. It was in a block between Pedro Valdivia and Orrego Luco streets, just north of the Metro Valdivia, which at 8 PM, was orange with the lights from restaurants and houses. La Huerta was run by four girls. I learned a couple new words: 'feugo' (fire) and 'mesa' (table). Most importantly, I could now, if needed, form the sentence: 'ma mesa es en fuego!'.


---

Day 3-4: Santiago, Calama, San Pedro de Atacama, Bolivia
---
Your Comments
Add a comment
---
All text and pictures copyright © 2003 Tim Darling.