---
Day 15-17: La Serena, Elqui Valley, El Tololo Observatory, Fray Jorge
from Photographs of Chile, November 2003 by Tim Darling     (Click on the photos..)
---
Friday, November 14 - La Serena, Elqui Valley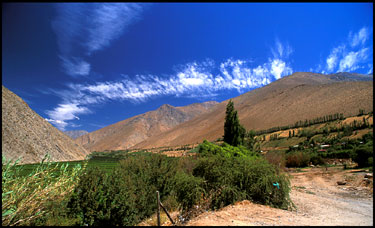 There a lot of pairs of girls standing near bus stations in La Serena who wave enthusiastically at passing cars, trying to hitchhike. One strange thing is that they are on streets where its not clear where any of the passing cars are heading. It could also be my imagination, but I swear I saw two pairs of girls where one of the girls in each pair was wearing the same red and white top. My guidebook to Chile didn't mention anything in the LS section about hitchhiking hookers whose pimps buy them all matching outfits. So I don't know, maybe it was all in my head.

(End of the road in Pisco Elqui)

I drove east from LS into the Elqui Valley which claims to have the clearest skies on earth. Almost all of the major telescope/observatories in the Southern Hemisphere are there. There's a tunnel through a particularly tall mountain thirty miles from LS, and beyond it, the sky is much clearer than it is in LS. LS was almost always cloudy and foggy while I was there- it's an unlikely beach town for sure.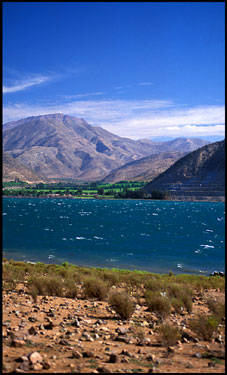 Route 41 goes east into Argentina. Halfway there, after about an hour's drive, I turned south and followed it for a few miles to Pisco Elqui.

On the drive from Santiago to LS, I passed a couple of towns but I could tell that if I stopped there, I'd be swarmed with locals. But Pisco Elqui and the other small towns in the valley were positively serene and friendly. The Elqui Valley is full of pisco fields; pisco sours are an official drink of Chile.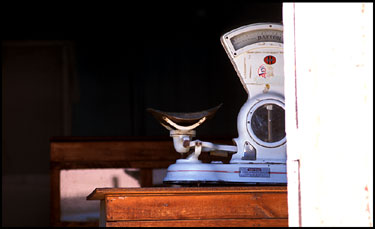 I found a spot in a little town called Gualliguaica that I liked and at 10 that night, I drove back out there to take some photos of the stars. The skies were very clear and very little light pollution came over the mountains which were on all sides. The moon hadn't yet risen.

(Shop scales in Paiguano / El Tololo Observatory at the top of a mountain with the Riclaro reservoir below.)


---
Saturday, November 15 - La Serena, El Tololo Observatory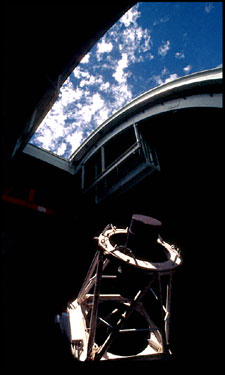 I had scheduled a visit at El Tololo before I left and I drove out there at 1:00. There's a security gate that a couple of other cars were waiting at and I stopped behind them. A few minutes later, a tour bus pulled up behind me.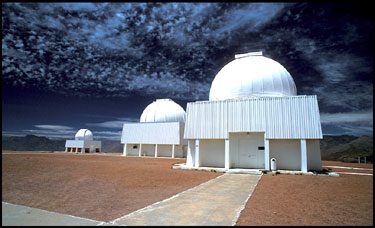 "Damn tour buses!" I thought. Then twenty American college girls stepped out of it, one by one, in my rearview mirror. "Now isn't that great?" I thought. "Young girls taking an interest in astronomy."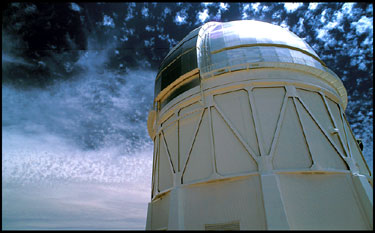 The drive there was a 45 minute ride up a mountain on a decently good gravel road. At the top, there's one large aluminum-covered telescope and five smaller white ones. The large one looks a little bit like R2D2. I recognized the white ones from a photo in Pink Floyd's Division Bell album.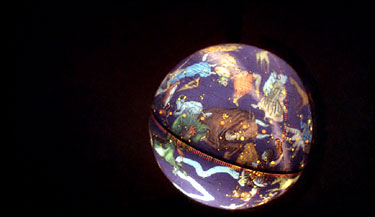 A guide showed us inside one of the smaller telescopes and then we went into the large one. At 2500 meters, he explained, the clouds only come halfway up the mountain. They also help stop dust and light pollution from reaching the telescopes.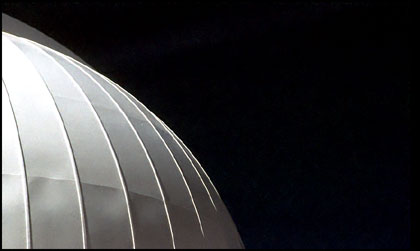 The guide explained how, though the area gets 300 clear days a year, sometimes astronomers come when it's cloudy and they have to leave with nothing. "Wouldn't that suck?" one of the girls asked her friend. "Yeah, it reminds me of that gum commercial," her friend enlighteningly responded. (Then she went on to explain how, in the commercial, a man reaches for a piece of gum and misses the meteor shower he'd been waiting to see).


---
Sunday, November 16 - La Serena, Fray Jorge National Park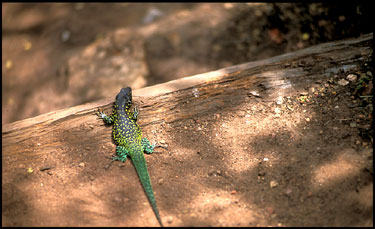 The Fray Jorge National Park is an hour south of La Serena. I drove down there in the morning. There's an exit on the highway for it and it immediately ends in a field with three dirt paths and no signs. I took the middle path and hit a dead end. OK, so I tried the rightmost path. It wound on for fifteen minutes with no indication it was the correct way. Eventually there was an open gate and a sign and then, a few minutes later, a guard house appeared where you sign in and pay the $3 entrance fee.

From there, the dirt path winds up a mountain that gave my truck some trouble, even in first gear. The sandy path caused the tires to slip a few times and in places it was very steep. Snakes and lizards were sunning themselves on the roads. Butterflies clouded around yellow flowered bushes near a sign warning not to feed the foxes.

At the top of the mountain, the desert ends in a rainforest. Since the mountains are so high and so close to the ocean, sea mist gets caught on the side of them and creates a tropical wetlands. It's surprisingly cool on the oceanside. The road ends and there's a footpath.

I walked down the main path and then asked a ranger if there was another one. He took me to a spot where there's a 'no entrar' sign and the road is blocked off. I walked down it for a couple of miles. It runs along the side of a mountain and has clear and a quiet view of the Pacific below.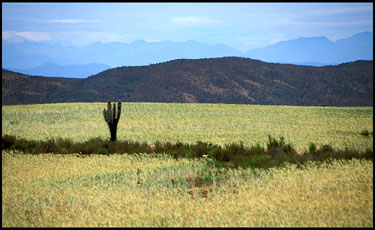 And, finally..

At last my time in Chile had about ended. I had to drive back to Santiago the next morning and fly home that night. After two and a half weeks, what were my impressions of Neruda's 'thin country'? It's hard to believe that it's one country. The Andes and the Pacific, the desert and the rainforest, all living so close together. And the people couldn't have been friendlier or nicer.

Plus I learned a lot too. Most importantly, not to throw pies at the bus drivers.

That, after all, is against the rules...


The End.


---

Back
---
Your Comments
I'm from Chile and I would like to said you that Your Photos are Great. Also I would like to ask you What Camera and Lens did you use?. Did you process the color with a Software?. I'm asking because a couple of years ago, I did the same places photo, but my photos aren't good. Thanks regards, Cristian
PD: I'm an amateur photographer, my profesion is engineer

-- Cristian Oñate, Nov 21, 2003
Tim: I just heard about your site and I would like to congratulate you. Really good work, amazing landscapes from an amazing country.

I think it is funny the part "don't throw pies...", but I need to correct you: the spanish sentence "Vidrio Fragil. Favor no apoyar los pies. Gracias" is Google-translated to "Fragil Glass. Please don't rest your feet. Thanks" according to my english.

We are not very prone to throw pies to the bus-drivers... Congratulations again

-- Claudio, Nov 21, 2003
Tim,Great shots, as usual! I'm really envious of your trip(s). No,I've never been to the Valle de La Luna or any of the Lagunas,but I've definitely been told to go there. Sadly, the hoped-forBolivia trip this winter is not going to happen, but hopefully itwill at some later date. Looks like the Velvia paid off :) Where are you going next?

-- Rachel, Nov 21, 2003
Tim, your photos and dialog are captivating. You have a talent for bringing to our lives many places that we would never be able to visit. I'm sure that Darwin would be impressed... (mind you, he hasn't done much recently)

-- dad, Nov 23, 2003
Tim, your stories and photos are the bomb. You're not a badguitarist, either.

-- Art, Nov 23, 2003
your photos and text are wonderful. we will be visiting santiago in early march can you comment on the winerys and which ones accept visitors? Hear mondavi has a big one, is it nearby????

-- Eirami, Nov 29, 2003
I'm so glad you got something from my book. I have been to your site and I loved your photographs. Chile seems far off to me now - that book has been out for ten years - but I look back at it with overwhelming fondness.

Of course, the book would have been much better if I could have smuggled in a congress of gynaecologists.

Perhaps you will give Terra Incognita a try, and follow me to the Antarctic.

-- Sara Wheeler (author, Travels in a Thin Country), Dec 4, 2003
Your pictures are so pretty, but I would like it if you would take pictures of more mountains.

-- ?, Jan 14, 2004
Hi Tim, Your photojournal of your trip to Chile is wonderful. I lived there for four years and travelled to most of the places you've been to, and your beautiful photos conjure great memories. By the way, you had bad luck when in La Serena. It is sunny and pleasant most of the year and thus not a strange place for a beach town. If anyone has any questions about travelling in Chile, feel free to drop me a line. Cheers, Jason

-- Jason W., Feb 5, 2004
Hello, your work wan t bad enough...(just kidding!!)was a great work!, visit Chile it s a great experience, t s a nice country,I really hope you have enjoyed it and come back again. Take care!! :)bye! Ps:Hey,Pisco Sour is from Pisco-Per (as an official drink), not from Chile.

-- Klaudia, Nov 13, 2004
Es un sitio muy ameno y alegre, con fotos de excelente calidad que reflejan muy bien los lugares que recorriste, aunque les falt algunos lugares t picos. Un Saludo de un Chileno. (It is a very nice site, with photos of excellent quality that reflect the places that you crossed.. Greetings from a Chilean.)

-- Alfredo, Jan 6, 2005
hello, I'm also from chile. But i live now in the netherlands. And i think these picture are beautiful. i really love them. But if i see those pictures i really miss Chile. Go through with making pictures. Greetz Guillermina del Rosario

-- Guillermina del Rosario, Feb 26, 2005
Hi Tim, beautiful pictures, I did visit El Tololo Observatory back in 1975,I have to confess I didn't get my pictures that clear, but I have to thank you, for bringing back wonderful memories of my teen years, I had a wonderful experience up there with my school mates, for sure at that time I wanted to become an astronomer but ended as a bilingual secretary, I still in love with the sky but as a hobbie. Also I was born in Ovalle, neighbour city to La Serena, now I have 19 years living in Toronto Canada, keep up the good work and thank you again. Sara Eliana

-- Sara Eliana Osorio Jamett /Sara French, Mar 11, 2005
Hi Tim: It could be said that I'm Paddy Chilean, I'm a native of Quillota, Chile, but I live in Kintogher, Co. Sligo, Ireland. I've never came across anyone that had such a good opinion of Quillota and I'm glad that you liked it! the photos were needed to start crying though, but next time maybe. Excellent site and,...go back! send us some more of your travels for the Pateperros, you're very good at it. Buena Suerte, Sl n, Rafael

-- Rafael FLORES, Mar 31, 2005
Tim, I've been perusing your site and think you are a real talent. The photos really speak to me. I hope that you continue to work on the website and revisit it with more photos as they crop up, and perhaps some supergreen music clips :) I leave you with this "That's what happens to songs. They start out as something we can all sing together and then they end up being part of a Ford Explorer commercial or some half-time show." -Ketch Secor OCMS PS: Go to Australia, New Zealand, and SE Asia sometime...you'll love it!

-- Nate Fletcher, May 5, 2005
Hi. I just wanted to tell you what a fabulous job you did with the photography. I attend Boise State Univ. I have a presentation to do for my Geography class, and chose the physical geography of Chile, as my topic. Your photos were amazing, and I looked over EVERYONE'S travel albums. Yours was, by far, the best. Thanks for sharing your pictures !

-- Kati-Maria Anderson, Nov 29, 2005
Your site is great, I am from CHILE leaving in Australia for the last 35 years! And I allways like to find photos from the old country.Is a grand place to vicit I am glad you like it!And were able to capture it in such a grand way throught the eye of a lens!If you have vicit Australia already hope you enjoy it too. Good luck with your future endevours.

-- Carol, Jan 21, 2006
I am planning a trip to Chile and these beautiful pictures are a great help. I can't wait to see these places myself. Thank you!

-- Leena, Helsinki, April 21, 2006
wonderful! thanks for sharing your photos with us... I'm from Romania, I don't know if i shall ever reach those places...

-- iulia, Jan 31, 2008
Add a comment
---
All text and pictures copyright © 2003 Tim Darling.