---
Day 19-20: Venice, Italy
from Photographs of Europe, May-June 2002 by Tim Darling     (Click on the photos..)
---
Wednesday, June 5 - Venice, Italy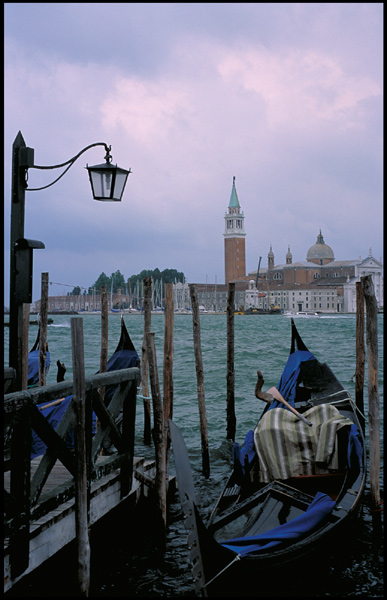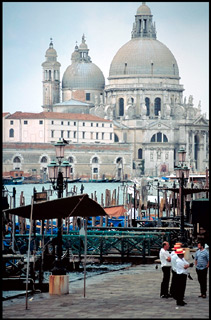 In the morning I went to Venice (Venezia). A man asked me at the train station if I wanted a room for $25. Since, when I'd called earlier from Florence, the youth hostel was booked for the next week, I said OK. I walked across the bridge from the train station onto the island.

Two Japanese kids were on the bridge and the girl was holding up a camera to take the guy's photo. I watched as he took a bite out of the red and white scoops of his ice cream cone with a big smile - the colors! - and the girl waited for him to lick his lips and take it out of sight before snapping a boring photo. I could have hit her with the Italian newspaper I'd bought to check on the weather for the next couple days.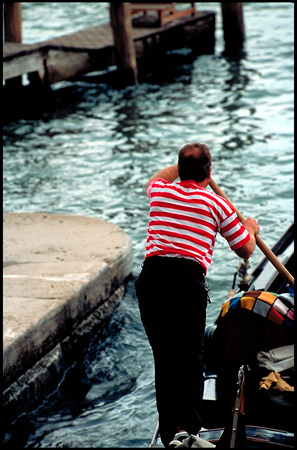 Venice is an island broken into two halves by a river, in ying-yang style. I spent most of the day on the north half and then crossed one of the two bridges to the south half later as it started to rain.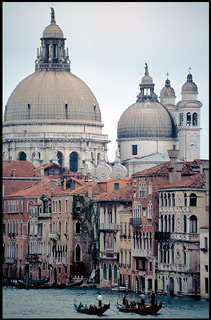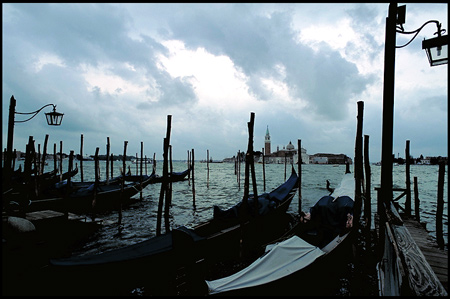 Piazza San Marco on the south side is where everyone migrates to apparently. Gondolas are lined up along the water that rocks against the stone brick ground in the wind. It was good to see it because I'd seen a lot of photos of the gondolas there, with the San Giorgio Maggiore church and tower across the water in the background. If you have a guidebook of Venice, that photo is certainly in there (and I don't even like it that much).

The Bridge of Sighs is right there too- I recognized it from photographs. Once you get to San Marco, it's hard to leave. Violin and piano music drift from restaurants; in the dark afternoon, the alleys are lit orange by shop windows. The rain was light, but the wind was not. My hair was blown into silly shapes.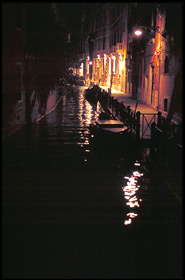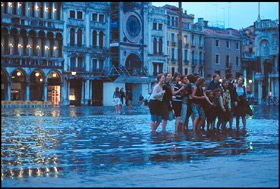 Like Florence, there aren't many natural places to sit in Venice, besides on a gondola, at a café, or on the steps of a cathedral. There are no cars or subways either: the only public transportation are water taxis. Even the ambulances are boats!

I walked around again as it got dark. Most restaurants and stores close early- around 9. The gondolas stop when it gets dark. The city is quiet, but there are always people walking around (probably lost in the maze of streets). When I was there, some of the streets flooded at night, making navigation even more interesting.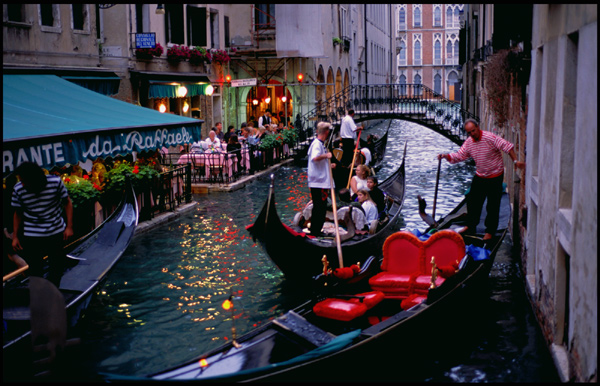 For a few minutes as it gets dark, Venice gains its real charm. A gondolier's opera voice bounced around a canal as he cleaned his boat. A girl holding a white dress around her knees ran out of the shadows, over a white bridge, and back into the darkness.

(Photo was taken 5 canals east of the Pointe dell' Academia, on the Ostreghe bridge. I didn't eat at the restaurant there, but you may want to get a table outside around 8.)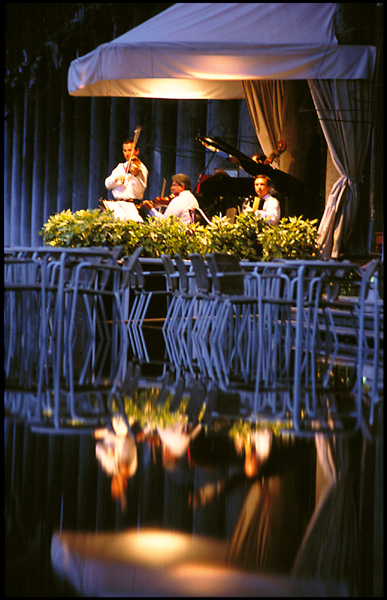 Maps of Venice are mostly useless. It's impossible to find your way around by the street names. But you don't have to: my room was near the train station (Ferrovia), past the Piazzale Roma. The popular Piazza San Marco was on the other side of the island. Both places have signs pointing to them every few streets so I just followed them. I walked back and forth across the island for two days and never went the same way twice. This wasn't on purpose, but it was a good way to see the island. The water taxis are probably good too but they take 45 minutes to go from one side to the other and you could wait 15 minutes or more for one to come by (assuming you can figure out which one to take which I didn't have much luck doing).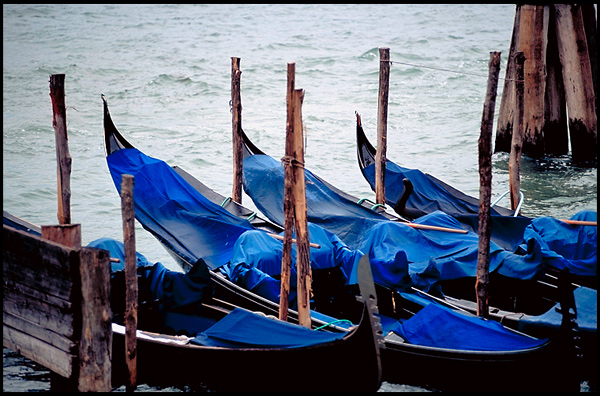 ---
Thursday, June 6 - Venice, Italy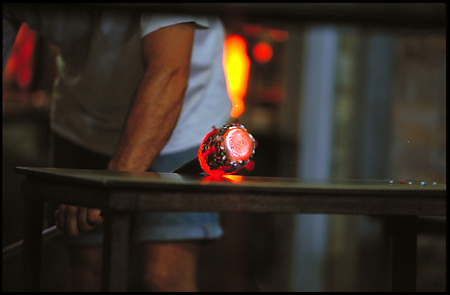 OK, a map of Venice and the other islands is useful if it has the ACTV water taxi stops and routes on it. I took the taxi to Murano, one of the other islands. It's known for its glass factories - Galileo used lenses made on the island in his early telescopes. Many of them are on the west bank, off of Fond. Serenella. I walked down it, and literally, right into a glass factory when the street ended.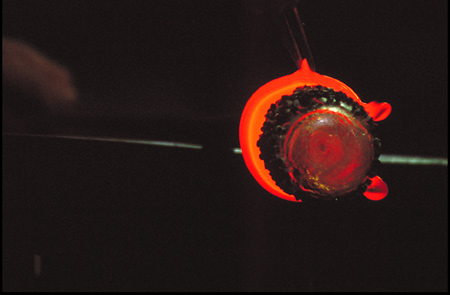 Until noon, people could go in and sit on benches to watch three glasssmiths making the pieces they sold in their stores. If you're in Venice, it's certainly worth seeing. Unfortunately, of course, there are twice as many men in suits who will explain the process to you and nudge you into buying something. Maybe I would have been in better spirits about them if I hadn't just been to Tangier, but they looked like slick hustlers to me. I've gotten good at avoiding them though: I watched the glass blowing for about half an hour and then waited for all the salesmen's attention to be focused on other visitors and then slipped past them through the door with almost military precision.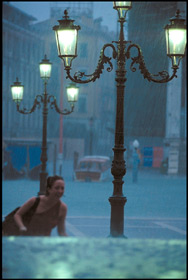 Back in Venice, I had dinner at a restaurant as I avoided the rain showers and waited for my train. A couple of days earlier, I ordered a green salad and had gotten just a bowl of lettuce. So I wised up: this time I ordered a tomato salad- and got a plate of tomatoes. The Italians have apparently failed to realize that you can mix vegetables in a salad. Or maybe you have to order both salads and mix them yourself?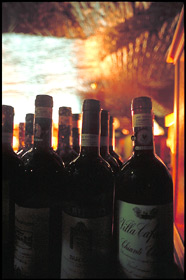 I met Julie, Maggie, Alex, Derek, and Karen on the night train to Vienna. J, M, and A were traveling together- they were friends growing up in Chicago and were on their way to Budapest. Derek and Karen were traveling around Europe together before moving to Texas. D and K took the top beds and I sat on mine at the bottom. J, M, and A sat across from me and we discussed religion and Christianity for a while (they said they were staying in a Christian youth hostel in Budapest so I asked them about religion).

Maggie was the talkative one- we talked while they wrote in their prayer journals. I gave them my opinion on how I don't believe in or want to go to heaven because I don't want to be trapped anywhere forever. (I can't argue that it doesn't have a paradoxical ring to it: the unbearable though of never dying doesn't balance out the unbearable thought of dying). I also like the reality of life- heaven seems to me to promise a false sense of happiness.

I think their opinion was that you can't think of heaven in the terms you think of life on Earth. I think that's a good opinion and they seemed like good people.


---

Day 21-22: Prague, Czech Republic
---
Your Comments
Hi!! I was looking for a picture of Florence to paint for my parents anniversary - I stumbled upon your pictures and got lost in your story. I was in Europe in many of the same places in April/May 2002 (www.picturetrail.com/sarah-bear - but I'm no photographer) - it was so fun to reminisce as I read about your trip and looked at your beautiful pictures. You've done incredible work, I really enjoyed your site! Cheers, Sarah

-- Sarah, Aug 25, 2002
I love Venice, especially in the evening when most of the people have left for their mainland hotels. You have truly captured its spirit, and made my heart sing. I was there in May 1999, and I'm returning next week. Oh, what joy! THANK YOU

-- Annabelle, Sep 10, 2002
I could'nt agree more with your views on heaven! I haven't done much traveling but I am planning on traveling to the UK with my brother this summer and also I am going to France this spring. What would you recommend seeing in Paris? Sincerely, William

-- William, Nov 12, 2002
Hey there, I went to Spain and Morocco back in 2000 as part of a high school trip. Now I am totally in love with Spain, and cannot wait to go back there...the photos you've taken are incredible, and I can't believe I missed some of the angles you managed to catch at the Alhambra (probably spelling that wrong, but you get the idea, right?)! As a photographer myself, I think you should be very pleased with the emotions you've managed to convey in all of your shots. Great job!

-- Desiree, June 2, 2003
Cool site - was a good read. Am leaving for Nice ... then a driving holiday to where ever!! (deffinately barcelona).... Anyone have any good advice??

-- Asif, July 22, 2003
Hi! Wow! I loved your crystal clear photos of Venice! I've seen lots but not as sharp as yours! Thank you for showing me the beauty of Italy!

-- Laura Dekoker, Sep 6, 2003
Congratulations on an excellent website. Your photos of Venice inspired me to visit Venice recently. Thank you.

-- Mark, Apr 10, 2004
I was looking to update our guide and found your travels so good I'm now distracted. Thanks!

-- Venice Guide, Nov 6, 2007
Add a comment
---
All text and pictures copyright © 2002 Tim Darling.