---
Day 26-27: Copenhagen, Denmark and Helsingborg, Sweden
from Photographs of Europe, May-June 2002 by Tim Darling     (Click on the photos..)
---

Wednesday, June 12 - Copenhagen, Denmark

At 7AM I got on a train from Munich to Hamburg. It was the slickest train I'd ever seen. Glass doors swooshed as you approached them, opening into rows of gray executive leather seats. Some people had TV screens (but not me).

On the train, I started reading Ernest Hemingway's Green Hills of Africa which I had bought in a bookstore in Prague. The book was his travel stories of a month long trip to Africa.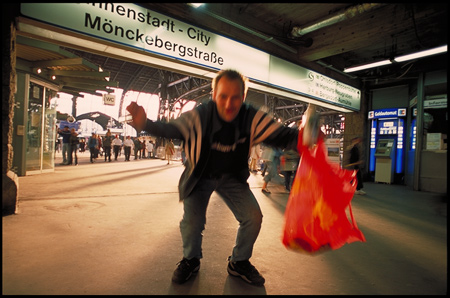 There was a wooden castle in the style of a children's tree fort in the middle of the Hamburg seaport as we approached the station. I had a few minutes at the Hamburg station before my 4 hour train to Copenhagen so I stood outside for a while (in the rain again). The station was full of loudspeaker announcements and I noticed that there were benefits to not speaking the language because my brain didn't pay any attention to them at all, even subconsciously, which would have been impossible had they been in English.

It struck me how much talent there is lying around the world and what strange places you find it in. On the wall of my train to Copenhagen, there was a picture of a shaggy cartoon cat which looked very unhappy with the fact that its tail was being used as a pipe cleaner. The pipe was shaped like Magritte's famous pipe- I expected to see 'ce n'est pas une pipe ou un chat' written underneath it. I loved the picture and I wanted to photograph it but I realized that would be a joyless and trivial theft. So I drew it in my journal. Photography is such a cheap excuse for art. Photographs are stolen. Photographs are the simple click of a shutter. Not all photographs, but most of them. It's hard to give the world something back for all its beauty with photography- what you give back was already there and already appreciated.

I like how Susan Sontag said that photography give us an "unearned" sense of understanding things.

Halfway to Copenhagen, in the middle of miles of bright green fields, a lone Ferris wheel stood hazily back on the horizon. Tall white metal three-bladed windmills turned every time I looked up, stealing the breeze from neighboring trees.

Three hours south of Copenhagen, the train went onto a ferry for an hour long crossing. It's strange to be on a train and look outside the window to find you're sitting in a ship's hull next to a row of trucks. But the good thing is that you can get off the train and stand on the deck during the crossing.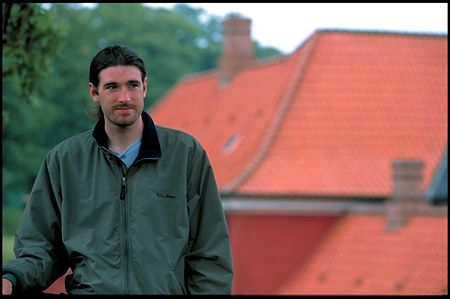 I met Phil, a good friend of mine since I started college, at the train station in Copenhagen (K°penhavn / 'Koob-en-how-en' to the Danes). We shared a house together before he moved to Copenhagen for grad school about a year ago. We took the bus and above ground trains to Rui ('Ray'), his girlfriend's, dorm. She was cooking for her friend's birthday in the shared kitchen which was soon filled with a crowd.

One of her friends, Ludwig, who was from the Faroe Islands (which are a part of Denmark), had borrowed a guitar from a friend for a few minutes to play Happy Birthday. He let me play it for a little while after I explained how long I'd been away and missed playing mine.

Later, from Rui's room, I called Lina and said I was in Copenhagen. We decided to meet the next morning- she lives a 30 minute train ride from Helsingborg, Sweden which I said I would meet her at (it was a 45 minute train and 15 minute ferry ride for me).


---

Thursday, June 13 - Helsingborg, Sweden

The Copenhagen metro/train/bus system is so good that I used my bus pass to get to the ferry which I took to Sweden. The train was crowded with young kids on a school trip. The ferry was ridiculously short- the distance was swimmable. And then I was in Sweden for the first time, the country I've always assumed that, at least somewhere along the line, my ancestors came from.

I met Lina at the train station as she got off her train. We walked into Helsingborg. There was a bookstore with records on the top floor. I found an old copy of the Alan Parson's Project I Robot (the one whose cover I had discovered had been shot at Charles de Gaulle airport shortly before meeting her for the first time in Paris). I went to buy it for her- it's a good album- but the owner of the store said it was 20 Kronor and he didn't have change for my 100 Kr ($10) bill.

So we had lunch at a café up the street, partly to get change. We sat outside and it rained, but the Swedish don't let the rain change their plans. We held up umbrellas until someone from the store came out with a table umbrella for us. We went back to the store and I gave the man 20 Kr. He said, no, he'd sell it to me for 10 Kr but he didn't have change for 20 Kr! OK, so I dug around for 10 Kr in change.

I noticed that, unlike most of the places I had visited, people didn't speak English to me the moment they saw me. And when they did realize I only spoke English, they'd speak to Lina in English too. Yeah, I definitely felt like I was home.

We went into a castle tower to escape the rain which came over in a large black cloud that shadowed the city and then disappeared into warm blue skies minutes later. It switched back and forth like that all day.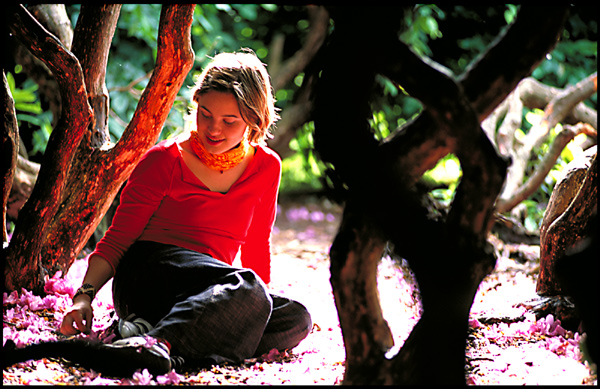 We walked along the coast and up a path to some sort of palace which Lina said was a castle but looked like an ordinary house to me. I walked out into the Royal Gardens and went behind some trees to take a piss and, as I was standing there, saw a patch of light filtering through a tangle of rhododendron bushes where their petals had fallen. I got Lina to sit there and took her picture. Then we went back to town and had dinner with her friend Mathieu, who was French but had been living in Sweden for five years.

I told Mathieu that I thought that Paris was a beautiful city - and I named at least 5 specific locations I liked - but he seemed offended when I added that the Eiffel Tower was too ugly to deserve to be there. Anyway, I felt like a two year old around them: they both spoke Swedish, French, and English and English clearly wasn't their first language of choice, but they had to speak it because of me. Ah, I hated that.

Then Lina and I took the last train of the night back to her town. She was reading Fahrenheit 451 in Swedish and I noted that the title hadn't been translated to Celsius 233. She, on a more serious note, said she could relate to the idea in the book about the people being given too much information about everything they had to know in this complicated world, so they could only read and learn small condensed summaries of anything. She said she could relate to that, that there was so much to learn and so many ideas out there in the world that she kept getting tugged in every direction: she'd talk to a physics person one day and be excited and interested in physics, but then the next be bored or less inspired by it and turn to literature, for instance.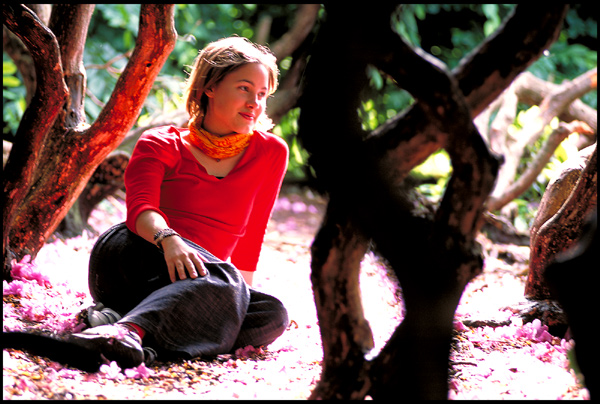 I understood what she meant, I was exactly the same way a couple years ago: it was almost a panic, all I learned, the more I learned, was how little I knew. I kept learning more and realizing I knew less. And I wanted to know. Now, the more places I had been to in Europe, the more I wanted to understand and speak the languages of the places that I liked the most, the places where I might want to live someday. Plus languages are fundamental to how we think about the world: they are how we form and make coherent the ideas we have in our heads. Can I really understand someone from another country if I don't understand the language that they talk to themselves in their head in? What if there are ideas in my head that I've never been able to nail down because I need those extra 3 letters they have in Swedish?

She also had said, in the course of a day's talk, that she didn't believe in love, that it was just a trick of the mind triggered by need, or more specifically, ego (the need to find someone who thinks you're worthwhile). She said when she starts to think she's falling in love with someone, she has a talk with herself and realizes that it's just the context of her life at that time that's making her feel that way and that it's nothing to do with the other person, so she talks herself out of it. Unless it's the right guy, of course, and then she said she'd buy into the illusion.

I think that way sometimes too, but life itself is just an illusion. You can think of life and the universe and everything as an illusion derived from the order of particles in random movements and random collisions or as an illusion derived from the order of particles in pre-determined movements and collisions. I said to derive the impression of life from that was a far more magical step for me than to derive the impression of love from life. She said, OK, but the feeling of love is just an emotion, like anger. It may be an illusion, but it comes from yourself and you can control how you react to it. I didn't have a reply to that.

We walked up to her house past the large vinegar bottle (her town was built around a vinegar factory). She lives in nice house with a large kitchen, lots of windows, and a room dedicated to a ping pong table. Her mom was the first person to understand my Swedish.


---

Day 28-29: Perstorp, Copenhagen, and Back
---
Your Comments
I think that was a great couple paragraphs about europe. the pictures were cool to!

-- , Oct 11, 2002
I don't know you but your vacation seems like it was absolutely beautiful and the pictures are just goergous! It makes me wanna go to Europe again.

-- , Nov 10, 2002
Thanks for taking me there again... back to work now...

-- Shannon, Nov 11, 2002
Add a comment
---
All text and pictures copyright © 2002 Tim Darling.