---
Day 5-6: Madrid, Spain (San Isidro Bullfights) and Tangier, Morocco
from Photographs of Europe, May-June 2002 by Tim Darling     (Click on the photos..)
---
Wednesday, May 22 - Madrid, Spain (The San Isidro Bullfights)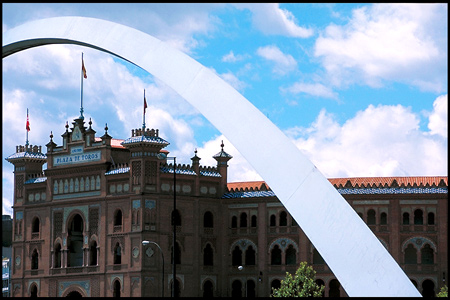 Back in Madrid I tried to get an overnight train to Granada but they had been stopped a couple months earlier. I wanted an overnight train so I wouldn't have to worry about finding a place to sleep so I got a train that left at 11 to Algeciras, which is across the Strait of Gibraltar from Tangier, Morocco.

I headed to the east side of the city to the Plaza des Toros and bought a ticket to that night's bullfight from a scalper (the tickets were otherwise sold out). You might ask, do bullfights still sell out every night because the Spanish go, or because tourists go and then return home in horror about how brutal they are and how no one should ever go to see them? But, no, the Spanish love their bullfights.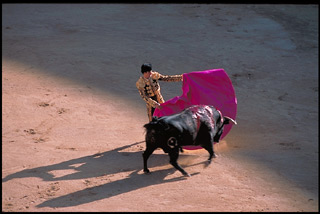 The fights last about two hours and about six bulls are killed. The bull comes out and four or five 'minor league' matadors taunt it with yellow and pink flags. They have a wall they run behind when it chases after them. Then two men on padded horses come out and two other men stick eight pointed sticks into its shoulders to weaken it. The bull charges the horses and their riders jab it with a long pointed stick. When the bull is sufficiently weak, they leave and the matador comes out with a red flag. He taunts the bull for a while and then plunges a sword through a soft spot between its shoulders. The bull coughs blood and then collapses and is dragged away by horses. The exact same thing happens five more times. The seats are concrete steps and the men smoke cigars and everyone passes around bags of sunflower seeds. Personally, I think animals should be respected and the killing of them (preferably to be eaten, which these bulls are not), should be done with as disciplinedly, painlessly, and respectfully as possible. (I don't disagree with eating meat, though I don't myself, except when I accidentally mistranslate something on a Spanish menu).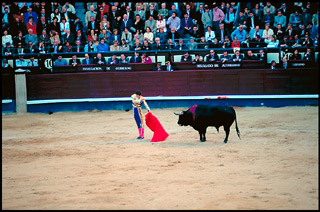 But I must say this about the people of Madrid: twice while I was there, I saw two people give up their seats for older ladies and once a guy a gave up his seat for a blind man. In fifteen years of riding the DC Metro, I can't ever remember seeing someone give up their seat for someone else.

On the night train to Algeciras (Al-jeh-seers) , I shared a small compartment with five other guys on pull down cots. I met some Americans in the next compartment over. Four of them were from UC Davis, studying in France and spending a week in Morocco. The two girls at the top were from Lafayette College in Pennsylvania, studying in Brussels, and spending a week in Spain, including this trip to the Rock of Gibraltar. One of the guys was reading Don Quixote.


---
Thursday, May 23 - Tangier, Morocco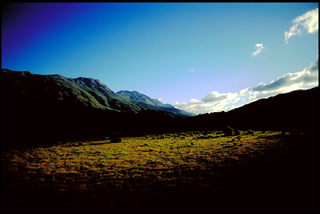 The next morning I talked to one of the girls from Pennsylvania, a fellow vegetarian, Kristin, as we stood in the aisles of the train, watching the green and rocky scenery of the last hour of our trip passing outside the window. She said she and her friend went to Barcelona and I mentioned that I wanted to see Snowflake, the white gorilla, there. She said she doesn't go to zoos but loves gorillas. They were going to Gibraltar to see the monkeys. She explained how she believed we evolved from monkeys in Africa and then, when it got too crowded, came over to Europe. I asked her if she believed in God or heaven (she didn't) and I asked her if she found death depressing because of that. "No, I think we're all made of energy and everything has energy and when we die our energy just gets shared back with the Earth. Anyway, it makes life seem more precious..." We said goodbye at the train station. They went to see their monkees and I went to see Africa.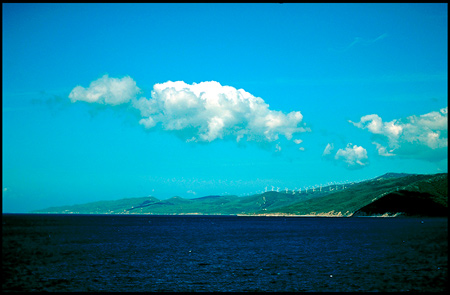 Photo: windmills on the southern tip of Europe, along the windy Strait of Gibraltar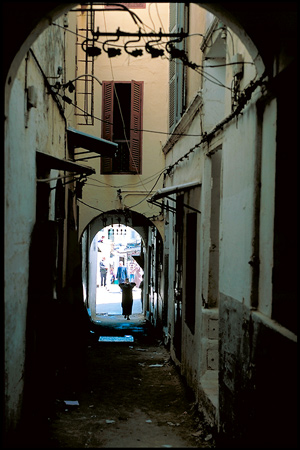 Tangier (Tanger) ('Tan-jeer' / 'Tan-ja' to the locals) is very different from Europe. I got off the two hour boat ride and was swarmed by a number of men trying to befriend me and take me on a tour of the city. I said 'non, merci' and all but two of them had left me alone by the time I got to the start of the broken buildings and swerves of the stone and dirt streets that make up the city. (It's funny to go as far from France as you can through Spain and then - voila! - find people speaking French again).

The two guys who didn't leave had a nice good cop/ bad cop routine going- the taller one kept calling me a racist for ignoring him: "this is Maroc, not Afghanistan" (they were of Arabic descent). The shorter one, Ahmed (he pronounced his name 'Achmed' to me), who was missing a few teeth but spoke perfect English, said "stay with me, it is better to be hassled by one mosquito than by thousands of them". The taller one eventually stopped at the bottom of some stairs on a hill and yelled up after me, "fucker! I'm gonna get my niggers.." to beat me up because I was obviously a racist and then he left, supposedly to go get them. I thought, this is great, I've been in Africa, what, ten minutes now? So I gave in and asked Ahmed, "OK, how much?" He said $10 for an hour and then took me around the narrow dirt and broken tile streets that were too small for cars to their Kasbah/castle.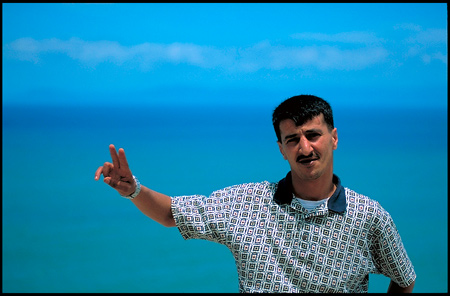 Ahmed took me to a wall on the side of the kasbah that overlooked the Strait. You could just see the mountains of Spain far in the distance. He told me how many of his fellow Moroccans died every year trying to cross it in makeshift rafts. He said many of them did it to smuggle drugs but often they'd make the trip just to get to Europe in hopes of a better life. It was a sad story and it obviously affected him.

We passed his taller friend again in an alley standing around a car with three friends but they didn't say anything.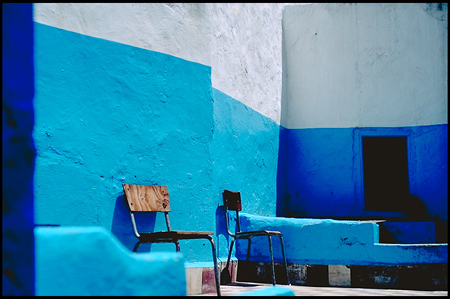 He then took me to his friend the rug dealer (he called the rug store an 'art school') for a presentation of their rugs in an upstairs room (a group of tour bus tourists were clumped nervously in the ground floor together). The man there gave me mint tea ("Moroccan whiskey") after Ahmed left "to go pray". I said everything I own is in my backpack and had no room or need for rugs. (I said this up front but he still showed me them). Then we went to an herb dealer and I bought $5 worth of mint tea leaves from him out of politeness (I threw them away later before getting in the boat after it occurred to me that I didn't know exactly what was in that bag).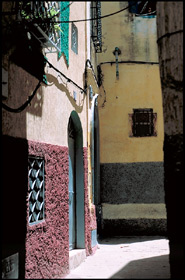 I told Ahmed I wanted to give him the rest of the money I had, so could we just walk around for a while and take some photos? He took me to the roof of a café. Jack Kerouac had a dream of eating Wheaties in Florida from a Tangier rooftop. He was there helping William S. Burroughs literally tape together Naked Lunch in the spring of 1957 before going to Paris and back to the US a little before On The Road was finally published. Kerouac didn't like Tangier, but then he didn't like any place outside of America (except maybe Mexico) too much. He didn't like Paris because they didn't understand his French-Canadian dialect.

(If you look closely, there's a boy looking out the window at the top of the photo.)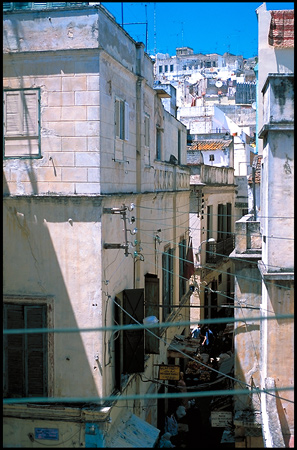 On the rooftop, Ahmed started to light up a hash cigarette for himself but I said let's head back (I began to suspect that everything he did was a trap to get me to give him more money by some means). We went back to the ferry and I gave him $30 for the hour and half we had walked around.

So I learned that if you have a foot-long lens hanging around your neck (and aren't a member of a tour bus group), you are going to be forced to submit to a tour guide and spend money, at least if your skin color is the same as mine. (I did have it concealed under a raincoat though not too successfully apparently).

I also learned that as soon as you have one tour guide showing you around, everyone else in the city will leave you alone. I could take photos wherever I wanted. This was good since I'd heard the people there don't like to be photographed. I didn't take too many photos anyway- I wasn't very comfortable pulling out my camera. Also with a tour guide, you don't have to worry about getting lost and not being able to find the ferry again. I even had to tip someone to find my way out of the boat station. You have to pick up a boarding card in the middle window, get it stamped on the right side, and then leave by the left door and walk over to the boats.

Unfortunately there were two boats sitting there. Me and an Australian couple (well the guy was American but he'd picked up some of the accent from his fiancée and looked like he was from the outback) and an Indian guy from London followed a tour group swarm to the far boat but after a few minutes in line there, the girl, Robynn, got the feeling we were in the wrong line. I disagreed, but had to admit that it was strange that all the other fifty people in line were wearing orange name tags. (These must have been the people in the rug shop because the boat I came in on only had a few people on it and I hadn't seen any other non-locals in the city).

So we ran in a panic to the other boat (Robynn, who'd just spent the last half hour saying how great it would be to be back in Spain after five days in Morocco quickly outran the rest of us). Indeed, the other boat was ours and we passed the ticket guard on the car ramp with anxious dry mouths minutes before it left the dock.

The two of them had bought a rug for $290 and were regretting the purchase. They said at least it didn't say 'Made in Taiwan' on it. I said, "well maybe that's better than 'Made in Tangier'" they laughed and agreed but I said, no, I was only kidding. I think I was anyway.

In hindsight, the city is a lot larger than the maze of streets I walked around. If you can get past the hustlers near the boat ramp, maybe it's worth heading to the left along the main highway and entering the city much further down? (Of course, it may well be best just getting a tour guide when you get off the boat or you might run into guys like the ones I did who had been prohibited from hanging around there).

I had booked a hotel in Algeciras so I found an internet café nearby and a pizza place called TelePizza. I ate a medium thick crust pizza there which was recommended by the sign for 2-3 people. When I got up to carry the pan to the counter I saw a family of four behind me sharing the same pizza I had just eaten. The two guys standing in line gave me funny looks and the girl behind the counter looked half-impressed, half-afraid I might order another one. (I did pause in the middle of asking for 'uno más.. aqua' as a joke). So maybe I learned more about Americans and our way of life than I did about anyone else's.


---

Day 7-8: Granada, Spain
---
Your Comments
I didn't get to read all the journal entries, I was just searching on google.com for pictures of bullfights. I think your trip sounds very interesting, a lot of interaction with the locals and such, and I was wondering if you have traveled to Ireland, Scotland or England. I am studying there this summer for four weeks and I am trying to get as much background on the area as possible. Thanks, Ashley

-- Ashley G, Mar 29, 2004
salam 3ala nas bladi ana oomar men espa a o ana kanetwahach l tanger bezaf wa lihhada ana kanchof tawar diyal madinat tanger

-- omar ben abaida , Oct 26, 2004
I am sorry to hear about your terrible experience in Tangier. In fact, Tangier is a beatiful city, yet intentionally neglected... My advice to you is to make a friend from Tangier before you visit... That way you will see the hidden secrets of the city.

-- Ab, Nov 18, 2005
Tanger isn't a very nice tourist destination in my humble opinion. It's filled with grinding poverty (then again where in Africa isn't), hustlers, theives, and drug dealers. I spent nearly a month in Morrocco. My suggestion is if you ever go back to just spend the night in Tangers and go deeper south to Fes, Marrakat, Agadir and check out one of little tourist beach towns with a large police presence. In where there are less tourists and a larger police force therefore less scam artests targeting you. I had a horrible time in Tangers both on my way in and on my way out but I had a great time in the rest of Morrocco. Also you have to be firm in standing up for yourself. Unwritten first world rules of civility, non harrassment, and low pressure sales tactics don't apply in Morrocco. The average person on the street has only one hope of avoiding poverty and that is to scam as many dopey tourists as he can either by inflating prices or outright fraud. ! So stand up for yourself, be firm, know local prices, and if you're a young male of averge fitness and size be ready to fight if they threaten you you have to. Most Morrocain men are half of our size and they'll back down anyway. I'm speaking from experience.

-- Scot, Mar 28, 2006
We are very often asked whether it is worthwhile to go 01 day excursion to Morocco. To find out we spent one day there with a private guide who was recommended by a friend of us. Our day turned out to be very exciting because it was not the typical tourist trap as are Most organised Tours to Tangier. We Spent a Very Pleasant day there and would like to let our readers share some of our impressions of the short trip: One beautiful and Warm Wednesday Morning we took the ferry to Tanger. We were very Curious to Meet our Licensed Guide Charif, his Email: [masteramrani@gmail.com] who was waiting for us at the Port. Our guide showed us the Market halls, the souk, historical places and typical morrocan coffee shops. Finally we went to a Moroccan Restaurant/house where a very rich lunch with vegetables and fish was served by a Family. It was a very interesting and peaceful day without the usual bazar-running which we knew from organised Tours. Besides, Hamid helped us to find the places where we could buy the gifts we had in mind and at reasonable prices. Of course he will get his commission but who minds if the The Quality Is Good & Price is okay. Charif Speaks Spanish, English and French very well. He is very enthusiastic in giving information about his country, his culture and religion. For us it was an exotic and thoughtful experience which we were glad not to have missed. We were on a trip, only 14 kilometers away from Tarifa, and in another world completely exotic and totally different. We highly recommend this Excursion if only to meet Charif.

-- Larry J.Velder, July 10, 2006
About Private tour guides In Casablanca On Line Direct email Contact: veridistor@gmail.com Private Morocco tours allow you to discover Tangier, Rabat, Casablanca, Fes and Marrakesh on your own private time with one of our professional Moroccan tour guide. Take your time with us, see the Sites, nature and Monuments with one of our luxurious mini bus or Car ... We have the best Service on Morocco private tour with competitive prices. We are a Young Moroccan Private Tour agency with friendly and experience English speaking tour guides. All our vehicles are with complete Climate control and superbly Comfortable Seating. Clients will meet their car and driver in the parking area where the ship berths. Our driver hold up a card with the client's name written on. The excursions which are written from the port of Tangier-Morocco are describing only those for which we have the majority of requests and with a short description. However we do have the experience of organizing "taylor made" excursions or transfers from this port, upon request, Cheers!

-- Lauren b. Smainin, July 19, 2009
You will never be disappointed when travel in Morocco using VeridistTour private tour guides Services. Email: veridistor@gmail.com Greatest hospitality you ever find! University of the Virgin Islands, USA, Albert Cohen

-- Dnoonss, Feb 10, 2011
I have always been fascinated with Moroccan culture and the rich history it can offer. We booked a one day tour with Benny. This included riding camels in the longest Atlantic beaches with my kids, visiting Tanger old town and Synagogues, walking across the Medina and Berber souks & markets. The view was spectacular on the way to our Hotel, to top it off our guide Benny was an amazing guide and friend who made this trip an unforgettable experience . His driving skill is commendable as he knows the winding roads inside out. We were on the road for almost three hours but felt safe and secure the whole time. And yes how can I forget, the local vegetarian cuisine which Benny hsd arrannged as I don't eat meat. Freshly picked vegetables whilst marveling God's wonderful creation is picturesque which I'll fondly remember. We bought five kilos of localvceremoonial pastries and cookies which we enjoyed immensely. Our one day trip arrangement has been extended to a two-day trip due to thee kindness and thoughtfulness of Benny and our driver Jamal. Email Benny:: moroccoguide@gmail.com I highly recommend booking your Moroccan trip with Benny and Jamal. It was a blessing to know them both.. Thank you for making this holiday in Tangier and Assilah an unforgettable one...

-- Steven Goren, Aug 14, 2018
Add a comment
---
All text and pictures copyright © 2002 Tim Darling.