---
Day 1-2: West Virginia, the Ohio River Valley, and Lexington, Kentucky
from Photographs of the American Southeast, May 2001 by Tim Darling ((click for email))
---
Wednesday, May 9 - West Virginia and the Ohio River Valley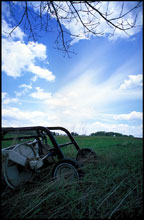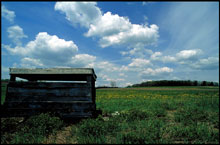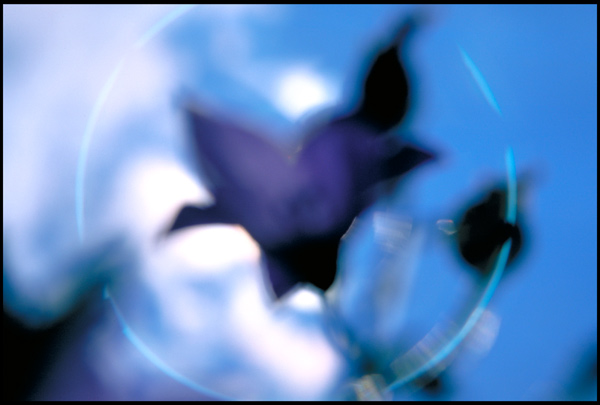 Farm equipment off of Route 68 in western Maryland. (Almost all landscape photos were taken with Fuji Velvia).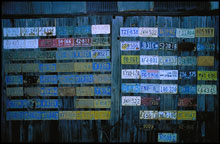 I took Route 68 from Maryland most of the way through West Virginia and then headed across the Ohio River into Ohio. These license plates were nailed to a barn in West Virginia, somewhere near Lumberport, off of Route 20.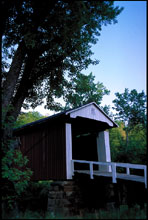 I've heard that covered bridges are popular in the north east US, but there are a couple of them on the scenic Route 26 between Marietta and Woodsfield, Ohio.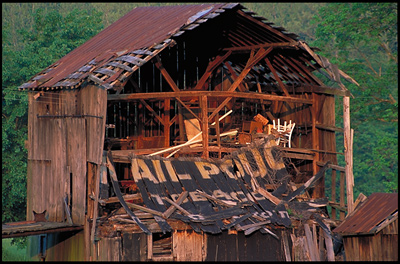 A Mail Pouch barn and a church in Sitka, Ohio.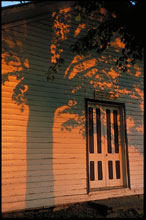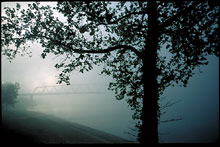 Thursday, May 10 - Ohio to Lexington, Kentucky
When I woke up, I found a very fog-covered Ohio River in Marietta before driving through Charleston, WV to Lexington. Lexington got its name during the early days of the American Revolution when the news that the British had fired the first shots on April 19, 1775 in a small town in Massachusetts named Lexington traveled by horseback across the country. The citizens in this town in Kentucky were looking for a name at the time and adopted the one they heard.



Lexington, KY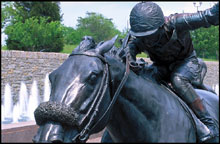 North and east Lexington are mostly a couple highways surrounded by grey strip malls. So by contrast, the nice bronze horse racing statue / water fountain (Thoroughbred Park on Main Street) in the center of town is all the more noticeable. Further south in the city is the University of Kentucky and a few nice blocks of red brick and wrought black iron student housing shaded by old oak trees and ivy that reminded me of the nicer parts of Georgetown, but without all the traffic. There are a couple of tall buidlings and hotels to the north, but in the south and west of the city lies Lexington's real charm: the highways and city noises fade quietly into big green horse farms faster than you can say "I wonder how long it took to paint all those fences white?"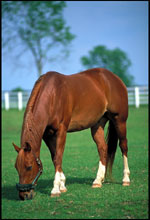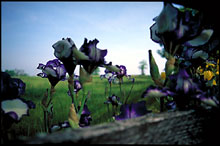 I stopped at the University's library and asked one of the guys at the desk if there was a computer I could run telnet or secure shell from. He glanced at the guy sitting next to him and said "tel-tel-net? What's that?" I was about to reply, "I don't know, you tell-tell me" when the other guy, who looked equally as confused, suggested I try the "open lab" downstairs. Oh well. Still, I have to say it was the fanciest-looking library I've ever been in.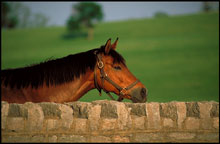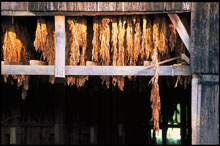 After checking into a room at the Quality Inn outside town, I drove back into the downtown area and ate dinner at a bar named Melodium that had all glass walls and 50's-style diner stools. After an egg salad sandwhich, a grilled cheese with guacamole, tomatoes, and green peppers, 2 sides of cole slaw and a pint of Guinness, I decided I liked Lexington a lot more at night. I walked up Main Street for a few blocks and then headed back, thinking that any city which tries to be both a college town and horse capital of the world... well, you have to at least give it points for effort.


---

Day 3-4: Louisville, St. Louis, Missouri wine country, and Jefferson City
---
Your Comments
Tim you are a really talented photographer, you should do something with your skill.

-- Julie Rezmovic, Thu, May 31 2001
Add a comment
---
All text and pictures copyright © 2001 Tim Darling.