---
Day 7-8: New Orleans, Lousisiana
from Photographs of the American Southeast, May 2001 by Tim Darling ((click for email))
---
Tuesday, May 15 - Starkville, MS and New Orleans, Lousisiana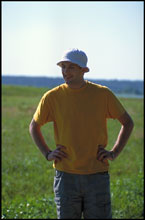 Before taking off for New Orleans, Simon and I went to Tennessee Williams' birthplace, which is a small house near Starkville. He only lived there for a couple years and then moved to Tennessee. I got the impression that his father was a travelling preacher of some kind, but that may be my imagination. He adopted the nickname 'Tennessee' as a tribute to the many volunteers the state produced during the Civil War. 'The Volunteer State' is their state motto. If they ever decide to change it, I'm putting my suggestion for 'The Parallelogram-Shaped State'. The University of Tennessee Parallelograms... now there's a name you can set your watch to.


I was listening to Toni Morrison's novel-on-CD Paradise during my long hours in the car between stops. The book is about a little country town that survived in its beginning years for the same reason that it failed in its later ones: because the people who lived there wanted to isolate themselves and push away foreign influences. In contrast though, all the small towns far from anywhere that I stopped in for gas or dinner, seemed to be the exact opposite. The women were friendly and one man stopped his pickup truck at the side of a road to show me the six foot fish he caught. I really got the feeling that many of them felt somewhat stifled by their environments and appreciated new faces just for being there.

The Big Easy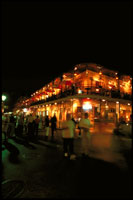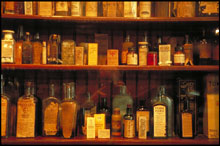 I headed down to New Orleans in the afternoon, by way of the Natchez Trace Parkway, which is a nicely maintained road owned by the National Park Service. No trucks or commercial vehicles are allowed on it, but the only problem is that you can't drive at 70-80 miles an hour like on the main highways.
I checked into my hotel on Bourbon street at night and walked out into the crazy street party that it's known for. It's a strange place with a very diverse mix of people, all who seemed to be getting something slightly different from being there. I wished I'd brought Simon down with me- for the first time in a week, I started to feel homesick. I'll come back sometime with friends. Being here alone is like scoring the wine of the century and not having anyone to share it with. (Or in this case, scoring the party of the century and not knowing anyone there).
While being infamous for its pickpockets, the biggest risk to your camera there at night (if you take it out with you), is probably getting beer spilt on it.

Wednesday, May 16 - New Orleans again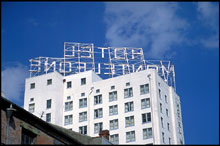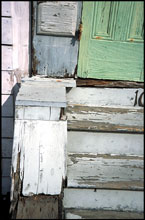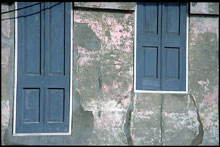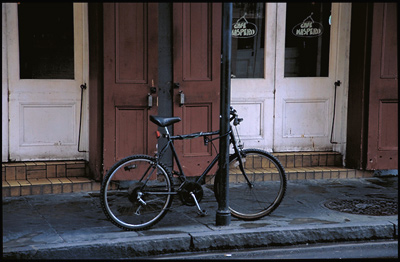 During the day, despite an overwhelming smell of trash, I saw it was very much like a European city with it's rumbling but sparse street traffic, bicycles and ringing bells, variegated sidewalks, and 2-3 story buildings that change size, color, and architectural styles every 10 feet. The wrought iron balconies and the awnings are definitely French. In the morning, they half shadow the brightly colored walls with their designs.

I learned that Douglas Adams had just died as I was leaving the French Quarter. I think his description of Earth in The Hitchhiker's Guide to the Galaxy - 'mostly harmless' - fit this place as good as any. I'm not sure it fits all of New Orleans, though- you have to be a little suspicious of any place that sells its swamps and cemetaries as tourist attractions.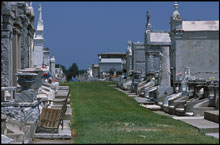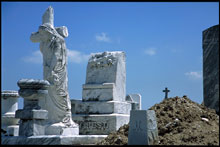 Some of the mausoleums in New Orleans.
Down on the Bayou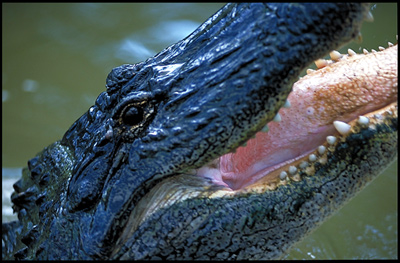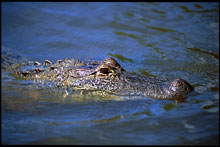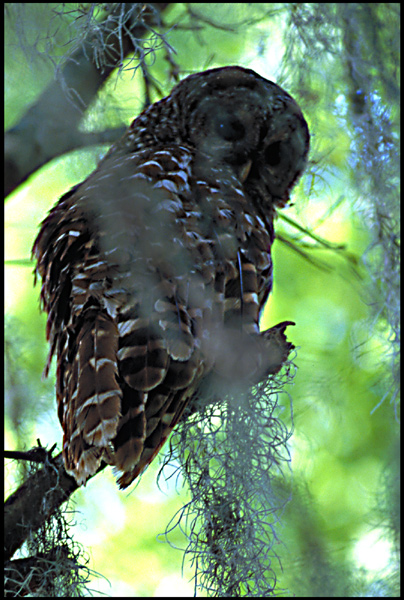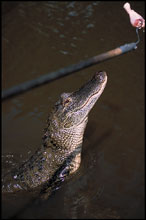 Annie Miller's Son's swamp tour on the Louisiana delta was certainly worth the 45-minute drive from downtown New Orleans. I saw 20 alligators on the two hour trip, all about as close as I'd like to come to them.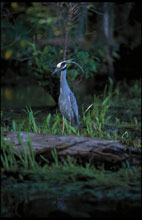 ---

Day 9-10: Montgomery, Alabama, the Georgia Canyons, and Atlanta
---
Your Comments
Add a comment
---
All text and pictures copyright © 2001 Tim Darling.