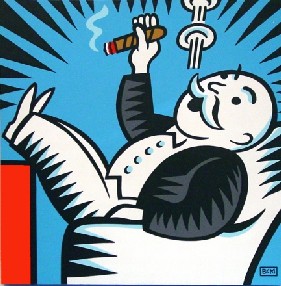 How to win at Monopoly – a simple strategy:
Always buy Railroads; never buy Utilities (at full price)*

For every other property type, only buy them to complete a monopoly or to prevent opponents from completing one. Often this may mean buying as many properties as you can early in the game, but watch your cash reserves.

At the beginning of the game, focus on acquiring a complete C-G [Color Group: all 2 or 3 properties of the same color] in Sides 1+2, even if it means trading away properties on Sides 2+3. After acquiring one of these C-Gs, build 3 houses as quickly as possible: no more houses, no less!
Once your first C-G starts to generate some cash, focus on completing a C-G and building 3 houses in Sides 3+4.

Note: 3 houses is the "sweet spot" in the game as shown in Table 1 below. That's where you're making the best use of your money.

Single properties are the least good investment if you don't build on them.
The only exception to the above rules are when you need to acquire stray properties to prevent your opponents from completing their Color-Groups to accomplish the above strategy.


Jail can be good. Stay in Jail as long as you can if an opponent owns a monopoly – at that point in the game, moving around the board will likely lose you money. Until that happens, though, pay the $50 and leave Jail as soon as possible: you need to be in the property acquisition race and collecting your $200 salary.

One interesting exception: Do you need St. James or Tennessee Aves to complete your C-G? Then stay in Jail and try to get out by rolling doubles: doing so will increase your chances of landing on those squares by about 25%.
The 5 best starting positions are – in order:
All 4 railroads

One reason why this is the best starting point: the revenue flow from railroads is much more constant over time whereas some of the other properties may have the same ROI but they come with bigger payouts over longer time spans. Owning 3-4 railroads is a cash cow: it will bring a continuous flow of money that can fund your monopolies.

3 houses on each of the orange Color-Group (St James/Tennessee/New York)
3 houses on each of the light blue C-G (Oriental/Vermont/Connecticut)
3 houses on each of the light purple C-G (St Charles/States/Virginia)
A hotel on each of the dark purple C-G (Mediterranean /Baltic)

This option gives by far the worst return of the 5 starting positions; in fact, until you get 4 houses, this C-G is the worst investment in the game!
However, his option does have 2 advantages: it is the cheapest of the 5 and it only has 2 properties so owning the entire C-G may be easier, especially in large games.
* I'm assuming all properties sell for close to their listed price. This is usually true, but sometimes properties can be auctioned off or traded much more cheaply or expensively; this will change how worthwhile they are to acquire.