---
Day 11-12: Valparaiso, Viña Del Mar
from Photographs of Chile, November 2003 by Tim Darling     (Click on the photos..)
---
Monday, November 10 - Valparaiso, Viña Del Mar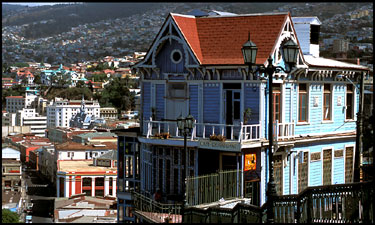 Speaking of Monte Carlo, the one thing missing from Viña was MC's big hills and tall thin staircases. But these are the overwhelmingly key defining element of its neighbor a couple miles to the south, Valparaiso. Valparaiso is a place that you have to walk around all day to believe or appreciate. Photographs can't capture its complexity. Small alleyways disappear up and down off in all directions, every road and path is its own hill. The houses hang and tumble from them as if they were caught in mid-motion while stuck on a blanket that had been rippling in a dangerous wind. Trucks selling yellow gas tanks and collecting empty ones creep by with boys in the back clanking metal poles on them in rhythms to announce their presence.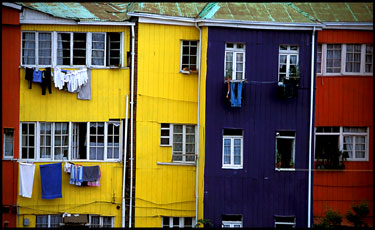 A man yelling and selling newspapers passes you going in the other direction, then five minutes later, as you come out on the edge of an overlook, you see him on a road dipping through a much steeper hill across the divide: the same newspaper man, impossibly descending a staircase in the distance, yelling the same words. MC Escher must have designed this place. Hitchcock would have filmed 'Rear Window' here if he'd known about it. From the top of one hill looking down on Calle Ferrari, you can see the shadows passing before windows, the men in suits kissing their wives goodbye between opening and closing doors, dogs at each corner barking, and cars with unhappy engines everywhere always going up and down.

I was back in Viña by 9. My hotel room had a big window with a long carpeted ledge that I sat on at night and hung my legs down over 5 Norte street, one story below. On the weekend nights, women who watched the cars on the far side of the road would yell things up at me, but it was quiet on Monday.


---

Tuesday, November 11 - Valparaiso

I went back to Valparaiso and walked up and down many more hills. The skies were overcast and it was a little cooler. After unsuccessfully trying to negotiate a thirty minute boat ride out of the port (they said to come back in an hour, I didn't want to wait that long), I hiked back up Ferarri in Cerro Bellavista to see one of Pablo Neruda's houses, La Sebastiana.

The house was, like the tour book said, a microcosm of Valparaiso, built straight up with small winding staircases. There was a bar pushed back on the side of his living room with a small badly painted statue of a boxer among the artifacts crowding the wall behind it. Hemingway could've lived there.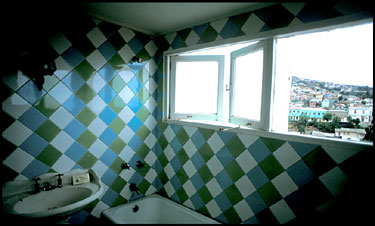 The living room had large breezy open windows and a long view of the port below. Photos weren't allowed, but I coughed and snapped the one on the left of his second floor bathroom. It had a similar great view and was a good example of how the house threw small crowded spaces wide open. Valparaiso did that well too. And if you look at a map of all of Chile, you could even say the same thing about the whole thin country.

So it was getting close to 5:30 and I had met a couple girls at a restaurant in Valparaiso the night before and had planned to meet them again the next night. They were on a ship that sold books, they had explained at first. This was true, but it turned out that they were really missionaries. I had tried to tiptoe away. Instead we agreed to meet on their boat the next afternoon.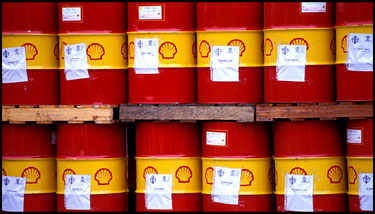 It was a large ship that they were on: 200 people docking for a couple weeks in many different countries and ports selling books, each on a two year commitment. I saw Alison (from Liverpool) and Juilette (from the Bahamas) in the bookstore and they got me a badge and took me to their cafeteria. I had been on a ferry before, but had never eaten dinner like a crew member in the hull of a ship. "Am I a 'seafarer' now?" "Can I say 'Ahoy' if someone walks by?" "Can you say 'Captain on the bridge' whenever I follow you into a new room?" and such.

We shot the breeze for awhile, but I knew what was coming. They steered the discussion to talk of Christianity and the Bible for about an hour (not a bad price to pay for dinner with two girls) and then they both said a prayer for me. I was very polite and respectful. Then they took me on a tour of the rest of the ship.

During the hour, our conversation about religion hit an iceberg when I steered it to same-sex unions. "God made Adam and Eve, not Adam and Steve," Juliette pulled from her bag of stock responses. "Hey, don't get me wrong, I'm no Steve. But the Bible is wrong about that. Even Jesus made mistakes," I replied and they didn't seem too happy about that. (We also discussed why God and Jesus and all the disciples were men- why couldn't God or Jesus have been a 'she'? [Note: this was a year before Dan Brown published The DaVinci Code which popularized the idea that perhaps his closest disciple was a woman; who will ever see DaVinci's painting The Last Supper the same way again?] There was probably a touch of irony in the conversation that followed; "Before I found Jesus, I had trouble submitting to a man," Juliette said. "No, no, no!" I yelled, hopelessly. "You had it right before..")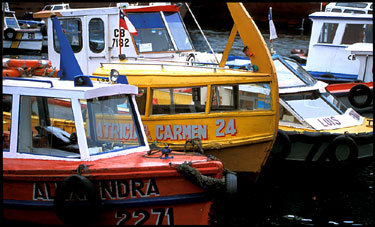 At one point, I asked them about a story I'd heard about Jesus and (whispering) prostitutes. They explained: "A prostitute went to JC and cried on his feet." I think I showed a commendable amount of restraint in not responding: "That lucky bastard! All the knocking shops I know charge extra for that.." But they were nice people, even if a little misled (they seemed normal enough until Alison said that AIDS was God's punishment for gay people).

One the walk home in a light rain, I bought a hip flask of Johnnie Walker Red and hoped to God that they didn't pray for me anymore.


---

Day 13-14: Santiago, La Serena
---
Your Comments
I read your article and saw your pictures and it brought back so many memories of Chile. We lived there for 8 years back in the late 80's until 1995. We loved that country. I've been during my time there, up to Arica, Iquique,etc, all the way down to the Isle of Chiloe. If I could, I'd retire there. We left so many Chilean friends. People who we will remember forever. Thanks so much. By the way, my oldest granddaughter is half Chilean(her father was an officer in the Chilean army.)

-- Larry Hayes, Apr 16, 2004
my husband is from vina del mar chile, this year for the first time our son went with him for new years to visit his family. on our son's return i asked what was his favorite part of chile? his answer was "THE PEOPLE and not being part of a tour. being with my Dad and family and the local people, they all knew i was a (gringo)from new jersey and no one cared, there was no anti- American rederick anywhere and everybody just wanted me to tell them about where is was from and school". so just a note: the people of chile are like none i've met anywhere, warm, kind and frendly, so if you have a chance to return i suggest you do.

-- anna mondaca, July 2, 2005
I'm originally from Valparaiso, I was born there and lived there until i turned ten then I moved to the U.S. Those pics brought back memories of the years i spent in Valparaiso. I would like to go back to Chile and experience what its like outside of Valparaiso, and you did a great job showing what Chile is all about, diversity and beautiful places.

-- Esteban Varas, Sep 20, 2005
Thank you for this wonderful trip on memory lane..I'm from Chile, Vina del mar...highschool in Valpo...how I miss it

-- Adolfo Pacheco, Jan 10, 2006
Thank you so much for sharing the wonderful pictures of my native country.

-- Raul F Cifuentes MD, Dec 25, 2006
Thank you for bringing back so many beautiful memories of my native and beloved country. I lived in Chile for 13 years until I moved to the U.S. It s been 9 years since the last time I went back. The pictures bring tears to my eyes.

-- Samantha , Mar 5, 2007
thank you for sharing these pictures. I went to San Patricio (high school) in Vina for a year I loved every moment I was there. This was so cool thanks. Marco

-- Marco Correa, Apr 14, 2007
Hiya...these pictures remain me what beatiful is my country and the kidness of the chilean peolpe. I was leaving in calle Victoria in Valparaiso and really miss it,beaches and pubs. hopefully will come next year in summer. saludos desde Inglaterra.take care.Viva Chile !!!! Kathyxxx

-- Katherine , June 6, 2007
I lived in Vina Del Mar from the age of 4 untill i was 12. I cannot explain the amount of memories your pictures brought back to. You also really gave a great write up on how the city is organized chaos. I will be visiting soon.

-- Andrew, Aug 9, 2007
As i get ready to go back to Vina del Mar foa month, i found this place again... I'm so happy to go back I will be there from December 25 thru January 30.....Thanks again for the beutiful memories

-- Adolfo Pacheco, Nov 30, 2007
I am doing a research about cultures at the library in my school. One of my students is doing Chile. I went into this page. I read some of your comments and many memories came to my mind. Good and bad memories. Tears came to my eyes and I have to stop. I don't want my students to see me crying. I have been in Chile a few times after 24 of been in USA. I wouldn't go back, but I know how much I love my country. Thanks

-- cmolina-vergara, Apr 21, 2008
wow! thank you so much for posting all this!!! i was born inchile, but grew up in the states. i visited once when i was 18 yrs old. these pictures capture what i saw and how i felt. you have a gift! thank you again!!!!

-- felice noemi mitchell, July 22, 2008
Add a comment
---
All text and pictures copyright © 2003 Tim Darling.