---
Day 24-25: Budapest, Hungary
from Photographs of Europe, May-June 2002 by Tim Darling     (Click on the photos..)
---
Monday, June 10 - Budapest, Hungary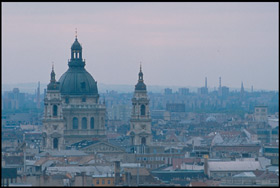 I got off the night train in Budapest around 8AM and it was raining. I noticed this particularly because I had left my raincoat on the train.

I walked across town to the other train station and got 4 of my remaining 5 train reservations I'd need to get to Copenhagen and then, 3 days later, back to Paris.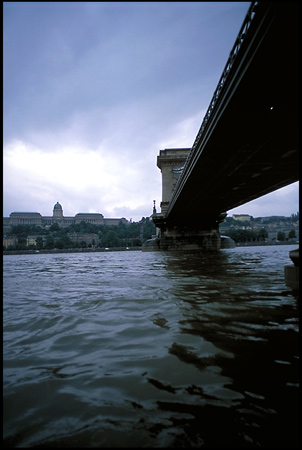 I also learnt my first Hungarian word, for batteries, at the train station: 'Anum' (that's how it sounds anyway). As in, "my camera no longer works because I used all my anums on my CD player listening to Born to Run outtakes."

I walked around the city and bought a $10 raincoat from a vendor on the street. I also bought some blue trash bags from the 'Szupermarket' and tied one of them to the top of my backpack to help keep it dry. (My old raincoat was large enough to let me wear my backpack under it). I caught a glimpse of myself in the reflection of a store window and saw that the wind was blowing the bottom of the trash bag out so I looked like I was wearing a blue cape. I quickly tied the bottom corners so as not to look like I was pretending to be a superhero.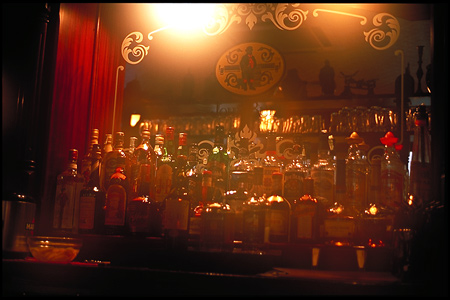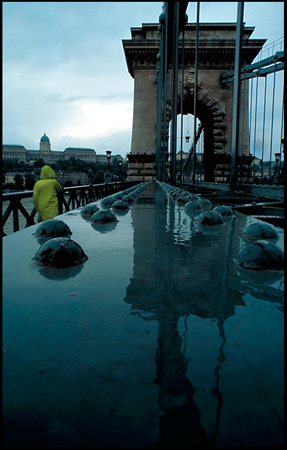 At 5, I met up with Bernard and Vanessa, who had been friends of my parents since before I was born. They were in Budapest for four years on a rotation at the British Embassy. They live in a nice semidetached house outside of the city, whose other half is - and I swear I am not making this up - the Pakistani Embassy!

They told me something of the history and current state of Hungary. It's a member of NATO, which is impressive since it was communist until 1990. In every general election since then, the incumbent party has never won. The socialist party is back in power now, including some of the same people who were responsible for secret police crimes during the communist era. They are in power because they promised higher pensions which are needed by many of the older Hungarians who haven't been able to benefit from the opportunities of the new capitalistic economy.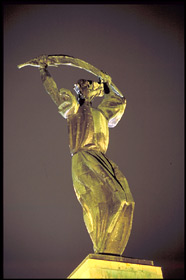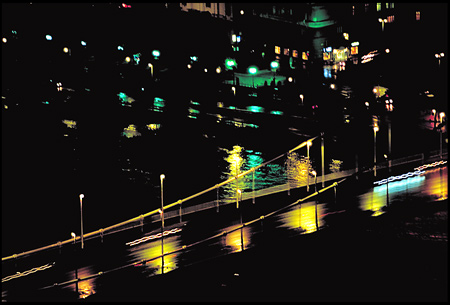 They and their son (also named Tim) took me around the city and to the top of a hill on the west side of town where we looked down on the city. Supposedly the last remaining statue of communism in Hungary is there and there's talk of taking it down. It's a woman holding some kind of feather above her head and you can see it from any of the bridges in town.


---
Tuesday, June 11 - Budapest, Hungary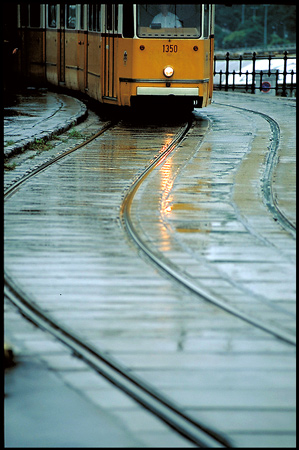 Like Prague, the metro, trams, and trains run without turnstiles or anyone asking to see your ticket. There are boxes on the buses and trams that you're supposed to put your ticket into to get it punched but I never saw anyone use them. I tried one of them once but couldn't get it to work. One explanation is that everyone has monthly passes, but I prefer to think that, as a remaining relic of communism, everyone still considers public transportation to be a state-subsidized right of the people. Probably they all have monthly passes though.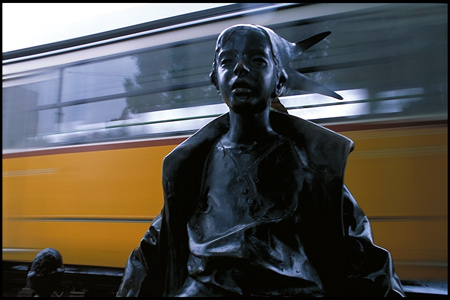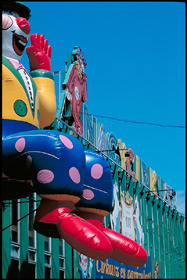 I stopped at a restaurant near Heroes' Square which I had walked up to because of the hot baths and the circus there. (Hot baths and a circus are all I look for in a city). It was a nice place and the waitress spoke English. She said that they didn't have anything vegetarian. "Nothing?" "We have cheese." "A cheese sandwich?" "No, cheese." As in a plate of cheese. I was hungry so I said OK. She came back later and said they had potato soup and cabbage pasta so I took that. She seemed concerned that I wouldn't like the cabbage pasta and from her description, I thought I was going to get something like sauerkraut ravioli, but it was good. She gave it to me with a bowl of sugar which it definitely didn't need. I don't know if she did that because that's how they eat cabbage pasta in Hungary, or because she thought that was how we eat it in the US. But the best part was that I got pasta, soup, a loaf of bread, and a Coke for under $2.50! I was beginning to think that the $20 I'd got from an ATM for lunch and dinner might have been a little too much.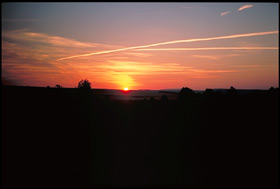 I got on the night train to Munich (and from there I was going to Hamburg and then to Copenhagen).


---

Day 26-27: Copenhagen, Denmark and Helsingborg, Sweden
---
Your Comments
you are quite lucky not to have caught by a ticket inspector (on the tram, fro exapmle) you really are! :))

-- sms, June 25, 2003
Your pictures truly describe the soul of each moments...

-- Christian, Mar 7, 2005
Add a comment
---
All text and pictures copyright © 2002 Tim Darling.