---
Day 3-4: Madrid, Toledo, and Consuegra, Spain
from Photographs of Europe, May-June 2002 by Tim Darling     (Click on the photos..)
---
Monday, May 20 - Madrid, Spain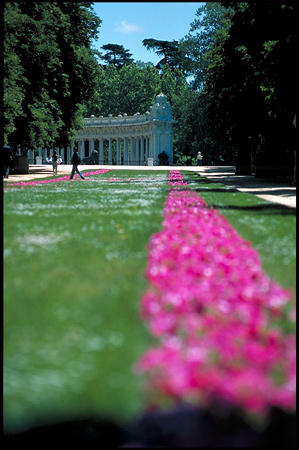 I shared a sleeping compartment with a guy named Dave from Dallas. He'd been in Europe for two months and had two months left. We had to change trains on the Spanish border by the Atlantic at 7 AM. (There are trains that do run directly from Paris to Madrid, but I couldn't get a reservation on that day's train. Those trains must have adjustable axles because the Spanish use wider train tracks than the rest of Europe.) Dave had a reservation for the second seven hour half of the trip but I didn't. I tried to make a reservation but couldn't understand what the girl at the desk was saying to me. Would it be such a bad idea for them to have multi-lingual signs to hold up that say the usual things, such as, "Ah, just get on the train and try to avoid the man with the hole puncher"?

The man with the hole puncher bumped me off the first train after an hour so I got on another train which was going to Palencia. The man on that train said something that I didn't understand but he didn't seem too concerned about me staying. It passed through miles of green fields with bright yellow patches, small stucco villages, and a couple of industrial towns. The bad news was that the train had been taken over by kids who were running and chanting in the aisles.

My experience on trains in Europe was very different from the one William Wordsworth wonderfully grumbled about almost 200 years earlier (in his 1810 English travel book, Guide to the Lakes) - though I could well imagine his: "the railway with its ... swarms of pleasure-seekers, most of them thinking that they do not fly fast enough through the country which they have come to see."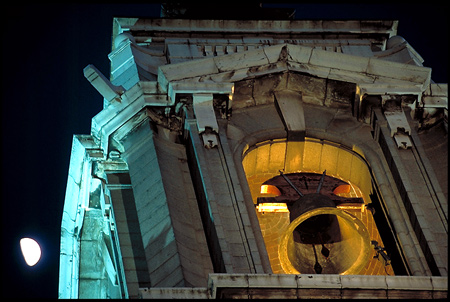 I finally got a reservation in Palencia and three hours later got to Madrid. For a capital city (which in my experience are relatively boring), Madrid is fun. It doesn't have many huge attractions to magnet tourists so they mix with the locals, hopping from tapas bar to tapas bar at night, eating and drinking a little at each place. My hotel (the hostels were booked) was near Sol which seemed to be the center of the city. At night, though, the public display of affection level might be a couple notches too high. But I understand- I too had trouble finding a room.

Photo: the Cathedral Almudena on the west side of the city. (About a 6-second exposure made by trying to hold the camera still on the ground.)


---
Tuesday, May 21 - Madrid, Toledo, and Consuegra, Spain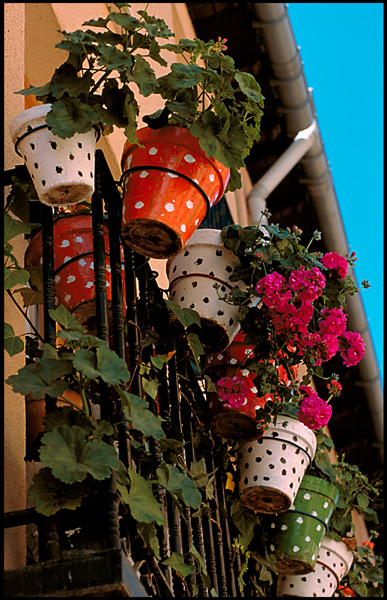 All the hostels and hotels in Madrid said they were booked for the next night when I asked around in the morning so I took the train south to Toledo. Toledo's a beautiful smaller city built inside castle walls on a steep hill. I checked a couple of hostels there but they also said they were booked so I found a room for $25 at a family-run hotel. The man at the desk spoke English and after I asked about Consuegra (Cons-vegra), phoned the bus station to find out when the buses left for it! So I took an hour and a half bus ride south to see Don Quixote's windmills. I finally figured out a good scheme for getting train or bus reservations: go to the information window and just say the name of the place you want to go. At the Toledo station, the man printed out a list of times and what window to go to. I circled a time on the sheet and handed it to the guy at the window. And voila. The sheet also contained a list of return times which was useful since the Consuegra l'estacion d'autobus is a bench outside a bar.

The only confusing thing is that Consuegra is on a bus route from Madrid -> Toledo -> Madridejos. The Spanish abbreviate all their place names to 8 letters on tickets so I wasn't sure for a while if I was going back to Madrid. The day before it took me a few minutes to figure out that 'MCHAMART' on my train ticket was 'Madrid-Chamartin' and not some local Irish pub.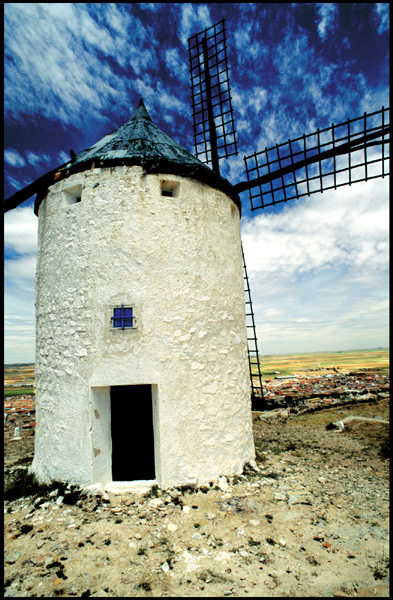 Don Quixote's windmills sit in a line along the top of a steep hill. They look down on the flat red dirt plains of La Mancha, their sails tied down and no longer spun by the wind. They're almost smug. I can see why he thought they were evil giants but I loved them. It would have been worth coming to Spain just to see them. I shot three rolls of film, including two rolls of my beloved (and apparently rare) Velvia for the first time in Europe. The sky was a bright blue with perfect feathery white clouds, the kind I like most. The weather couldn't have been better.

I couldn't find the place to buy the tickets to get back to Toledo, so I asked a girl standing there "where are the billets?" (as in to buy them). She said, "I don't understand." She spoke a little English though and told me that you buy them on the bus. Later, I was looking through my dictionary and I think I figured out why she looked at me funny: according to it, I had said, "where are the love letters?"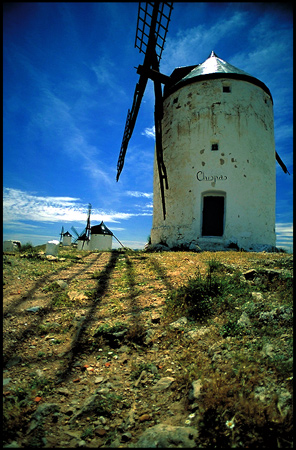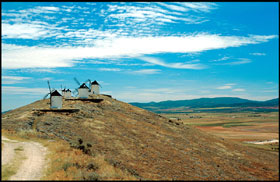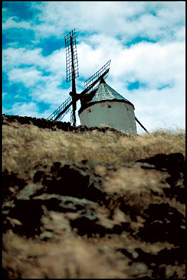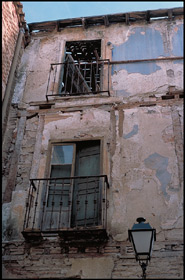 Toledo is built on a large hill so all the streets are squashed to single car width and many are very steep with sharp curves. Young guys and girls on loud motorcycles and mopeds tear around the maze of them quickly with determined looks on their faces as if they couldn't find their hotel either. An old man in a suit, his back bent from the weight of his shopping bags, craned his head to look through the window of a furniture store. As it gets dark, the streets get pushed back even further by the red plastic tables and chairs of restaurants. I spent a while in an internet café and instant messaged some friends from home.


---

Day 5-6: Madrid, Spain and Tangier, Morocco
---
Your Comments
Add a comment
---
All text and pictures copyright © 2002 Tim Darling.