---
Day 9-10: Granada and Lanjaron, Spain
from Photographs of Europe, May-June 2002 by Tim Darling     (Click on the photos..)
---
Sunday, May 26 - Granada, Spain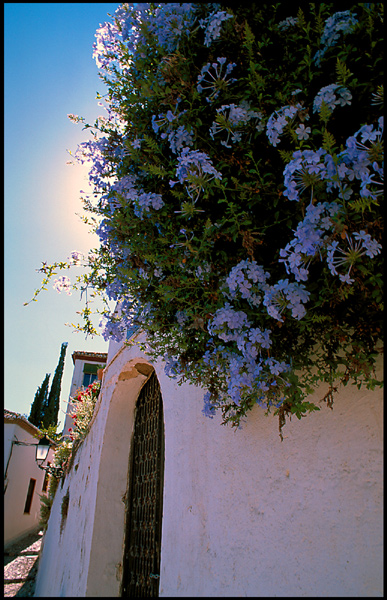 I spent the whole morning sleeping and woke up to sunlight and the sounds of footsteps on stone steps, birds chirping on the roof, and Spanish voices echoing in the courtyard outside my window. At noon I heard Carlos's voice outside my door "should we wake Tim?" and then there was a knock. They were going to the supermarket and the train station to get their ticket to Sevilla for the next morning. I went with them. Liz and Ellie saw us from a café and we said goodbye- they were leaving a couple hours later.

I got a bus schedule for the towns along the Sierra Nevada because I wanted to walk a few miles there the next day. (I had an overnight ticket to Barcelona for the next night, a day later than I planned to leave, but Sunday's train was full).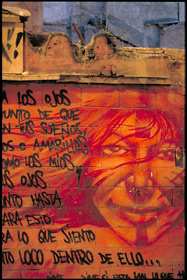 At 9 PM I walked into G and C's room and Carlos was talking on his cell phone in Spanish to someone. When he hung up, I learned that he had called Anna (one of the girls with the Coke and wine) to say goodbye and nice to have seen you. I couldn't get him to admit that he really wanted to get something else from the conversation but I could tell from that laugh of his. And I don't know how he got her number- that must be one of the advantages of speaking Spanish. Anyway that phone call was cut off and a few minutes later, her boyfriend called him back angrily asking where he was and demanding to meet him.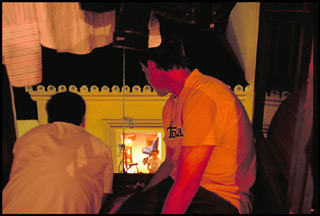 According to the girl hanging out of a 3rd floor window who Carlos struck up a conversation with from across the street, Spanish women like to make their boyfriends jealous. (It may seem like all we did together was start conversations with strange women, but that's only half true: Glenn had a long talk with a transvestite dressed in drag at the fiesta the night before.)

In any case, the girl across the street was nice. She turned her TV around to face me so I could watch it while they talked in Spanish, their voices carrying in the breeze that came up from the street.

Then the three of us went to a falafel place that we frequented which was a few blocks up from the cathedral. Carlos (still not having lost that smile) called Anna's boyfriend back so he could listen to us making fun of him for five minutes. After he hung up, we realized that the loud Moroccan music the falafel place was playing probably wasn't played anywhere else in the city and her boyfriend probably recognized it, so we left. (Although for some reason Glenn and Carlos wanted to stay: "What, George Bush's boy wants to leave?" Glenn prodded.)

(Incidentally, that night wasn't the last I saw of Carlos).


---
Monday, May 27 - Lanjaron, Spain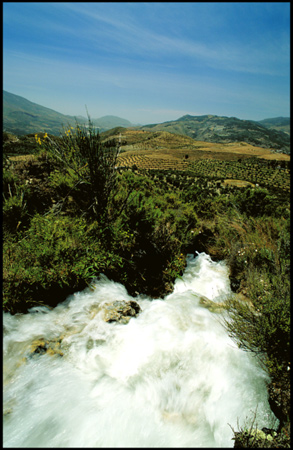 I got to the estacion d'autobus at 10:40AM to catch the 10:30 bus to Lanjaron (Lan-ha- roon). But luckily it was a Spanish bus so I caught it OK.

Lanjaron is in the Sierra Nevada mountains, but it's not near the peaks. The bottled water they drink in southern Spain is from, and named after, Lanjaron so I thought it would be a good starting place to walk.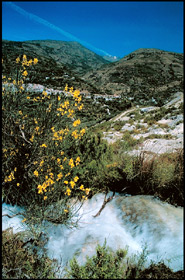 I had planned to walk about five towns down the road and catch the bus back from one of them. But I didn't even get one town over- I walked for an hour and a half and turned back and caught the bus back from Lanjaron.

I didn't far partly because I saw a waterfall from the road up a rocky hill and climbed up to it. A couple young kids saw me from the road and stopped at the bottom and came up too to sit there in the sun for a while.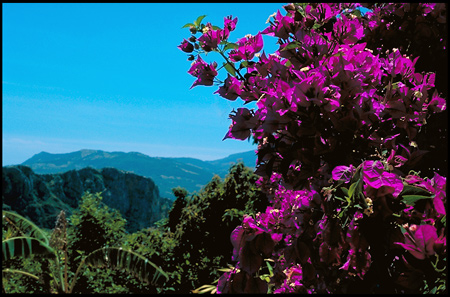 Lanjaron was mostly closed down around 3 when I got back. I went into an ice cream store and asked the couple who owned the place where the bus station was. They said something about a bank and pointed down the road. I found the bank and there was just a bench in front of it- not even a sign! Part of the problem with taking buses in Spain is that they usually don't drop you off in the same part of town that they pick you up from.

Sitting on the bench trying to avoid the sun, I could understand why everyone there takes a siesta during that time of day. The white summer sun makes you sleepy and concentration difficult. The Americans realized this and said 'we need air conditioning'. The Spanish realized this and said 'we need a nap'.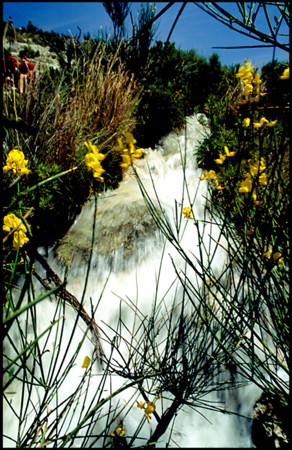 I went back to Granada for a few more hours and took the night train north to Barcelona.

I met Pamela on the train to Barcelona. She asked me where her seat was when we were getting on (it was her first train ride, she said). She sat up front facing the rest of the train and I had a seat many rows back. Two Spanish women asked me to swap with them, which both times moved me forward. In the end, I had a seat one row back from hers so I gave into fate and moved up the last row myself to say hello. She had just turned 22 in Spain and was on a summer vacation trip from the University of British Columbia in Vancouver.

We had a seat for the twelve hour train ride, not a bed as I had assumed night trains only had. It wasn't bad, but asking for a bed in the future might be a good idea.


---

Day 11-12: Barcelona, Spain
---
Your Comments
Add a comment
---
All text and pictures copyright © 2002 Tim Darling.