---
Day 13-14: Barcelona, Spain
from Photographs of Europe, May-June 2002 by Tim Darling     (Click on the photos..)
---
Thursday, May 30 - Barcelona, Spain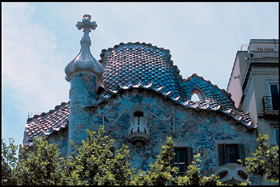 Pamela wasn't around in the morning (I hadn't seen her all night) so I left her a note saying goodbye. I'm not sure, but I got the impression that she falls into the category of people who don't want their heads filled with memories of people who they once knew, so I left a note since I think notes are memorable.

I passed Gaudi's Casa Battlo again. The roof is supposed to be a dragon and the building inspired by Hansel and Gretel, but I couldn't really see either of those influences.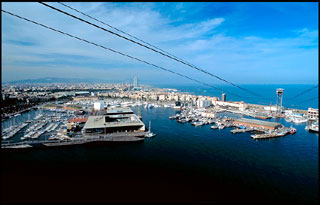 I think I saw the angel chanteuse again, but this time she was dressed all in blue and green with her face painted with sun rays around her eyes. I gave her a coin and her hand danced around mine and then she handed me a sheet of paper. I looked into her eyes, but saw no sign of recognition (but that's the act). Then she froze again, waiting for the next coin and I walked on.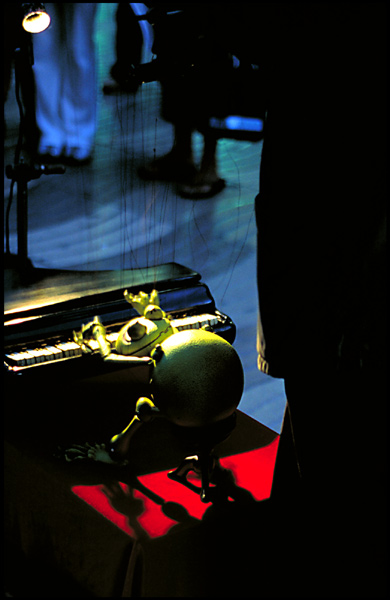 The paper she gave me read:

"Corazón de Mariposa: (heart of butterfly)
If you were free to choose your dreams,
what would you choose to dream while sleeping?
The bird with nothing in the looking glass:
The answer is for yourself and your silence"

I went on the cable car by the pier which I think was built for the 1992 Olympics. Then I sat on the beach for a while and read, waiting for my train to Nice.

Along La Rambla again, I gave 50 cents to two statue girls in makeup. One was sitting in a chair holding a mirror and the other stood behind her holding a pair of scissors to a few strands of her hair. The standing girl had an almost pirate-ish look in her eye. When I gave them a coin, she cut her friend's hair (I think it was real) and then put it under her arm and walked over to me to take it from her. It was pretty funny. I tied the hair to my shoelaces for reasons I can no longer remember.

"Hi honey, I'm home!" I said cheerfully in my best Johnny-Depp-as-Ed-Wood impression while pulling back the curtain around mine and Pamela's beds, waking her up. She looked surprised even if not exactly happily so.

"What are you doing here?" she asked after a moment. "I couldn't stand to be away from you," I said. "That, and I missed my train to Nice."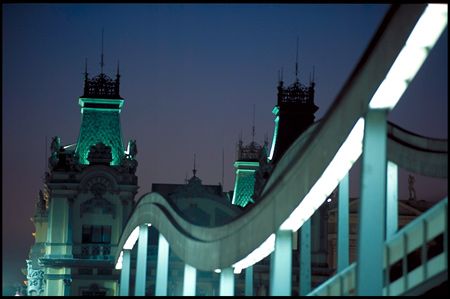 Well, I didn't miss it in the traditional sense. I went to the station early and asked if the 'leaving from Cerbere' on my ticket was the station I was at, thinking 'Cerbere' seemed like a bit of a stretch from 'Sants Estacio'. The guy got very distressed and said, "no you missed this train. Cerbere is on the Spain/France border and you missed the train to get there". Granted, in hindsight, I should have noticed that 'Cerbere' is definitely a French name and not a Spanish one, but this would have been helpful information to know when I bought the ticket.

So I went back to the hostel, at first thinking, "how can I avoid Pamela?," but then changing my mind to, "wait, why do I want to avoid her?"

Anyway, she said she was going to the beach the next day so I asked if I could come.


---
Friday, May 31 - Barcelona, Spain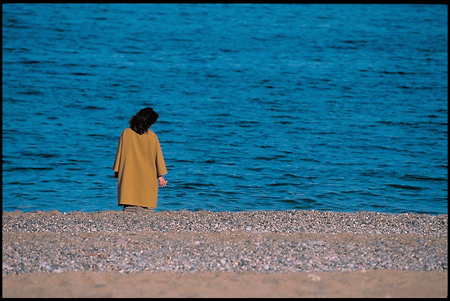 I got my ticket to Nice at the station early- this time the man at the window nicely explained I had to get a three hour train to Cerbere first. I waited for a while to see if Pamela came by on her way to the beach but I didn't see her. Since I had to leave at 7 and didn't want to risk being delayed another day, I changed my mind about going. I like Barcelona but when you want to leave a place and can't, you naturally don't like it as much.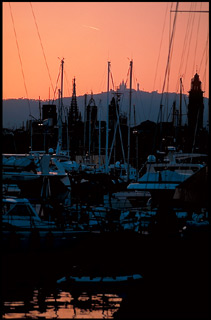 One specific thing that I don't like about Barcelona is that, for most of the day, the sun is sharp and bears straight down and there are few places to sit in the shade. Or at least there are few interesting places to sit that aren't outdoor cafés.

"If you see only one town in Spain, it should be Granada." Rough Guide to Europe, 2002.
"If you only visit one city in Spain, it probably should be Barcelona." Lonely Planet's Med. Europe, 2001.

(Does Spain have a documented problem of people only visiting one city?)

Who's right? They're both great cities, but if I had to choose one, I'd agree with Rough Guide. Go to Granada.


---

Day 15-16: Nice, France and Monte Carlo, Monaco
---
Your Comments
Add a comment
---
All text and pictures copyright © 2002 Tim Darling.